The Belgrade warmly welcomed over 450 of the local community through the doors to celebrate 65th birthday with free lunch and entertainment.
On Monday 27 March, World Theatre Day 2023, we celebrated our 65th birthday by welcoming hundreds of members of the local community through our doors for a free lunch.
The event also marked the culmination of our 'Warm Welcome' initiative, which helped to support people through the winter months. The initiative, which ran from November to March with kind support from Coventry Building Society, saw us support the local community with warm inclusive spaces, free tea and coffee, and free activities including arts and craft workshops, film screenings, and a creative play space for families.
The theatre was opened on 27 March 1958, and we have recently announced a wide range of productions throughout the celebration year including Big Aunty in the B2 Auditorium, which will be devised and directed by the Belgrade's very own Creative Director Corey Campbell and feature Olivier Award-nominee Alexia McIntosh (SIX the Musical).
CEO Laura Elliot said at the event, "The Belgrade opened on this day in 1958, as a space for communities to come together for collective hope for the future and joy for the present. 65 years later it is a joy to stand in a room with artists, staff, communities, audience, board members, funders, and partners. You all make this place the place it is. This is your Belgrade.
Our vision today, is much the same as it was then –  to enrich the lives of the people of Coventry and beyond. In its simplest sense that means that when you come here, whether that's to see a show, attend a workshop, have a coffee; that we can uplift your day in some way. In the last 6 months, what that has meant for many is simply providing a warm safe space through our Belgrade Warm Welcome, which has supported hundreds of people at a time of need. Special thanks to Coventry Building society, our partner and supporter on that.
So in thinking what to do for our 65th, the obvious choice was to throw a big Warm Welcome to the City with food, performance and celebration!"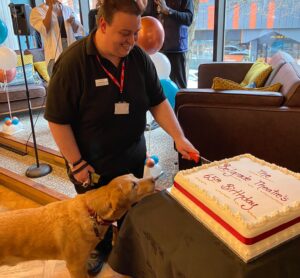 The event was attended by hundreds of people: CEO Laura Elliot made a brief speech, Alexia McIntosh sang several songs to entertain those assembled, and Customer Relationship & Data Supervisor Charles Bloch cut the cake alongside his guide dog Carlo (pictured above), as it was also Charles' birthday on the same day.
Watch the video below for more fun from the day's celebrations, a sneak peek of CEO Laura Elliot's speech, and hear from Creative Director Corey Campbell…
The local community who visited were asked what theatre means to them, here are just some of the responses that were received, as well as comments about the celebration.
"It's so welcoming. My daughter has Aspergers and has come to workshops and script-writing sessions here. It's good to know you are doing things for the community – the arts are good for everyone even if they are not good at other things they can always join in with arts." – Norma from Kersley
"Thank you all so much for a lovely community lunch today. The musician and the magician were brilliant and the food was delicious. I met some lovely people too. Thank goodness we have this lovely community theatre." – Georgina 
"I love everything about the Belgrade – the staff and that feeling when you come in." – Ann & Rosemary from Kersley
"The Belgrade is all about smiling faces. This event was bringing people together and felt like the community spirit I used to feel when I was young."- Ellen, Ray, Tom, Absalom & John from Camden Wrighton on Dunsmore, Stoke Camden Cov Building Society

Drawing created live during the birthday event by local artist Carrie Lewis.
View the gallery below which features photos of the fun throughout the day including balloons, an artist, a magician, drummers, singing, dancing, and lots of cake!