Belgrade youth participant Rowan McDonnell recently came to see our critically-acclaimed production of May Queen. Find out what they had to say, plus read exclusive chats with writer Frankie Meredith and movement director Kimisha Lewis.
'Godiva, Godiva, will come. Godiva, Godiva, will come.'
Godiva did come back to Coventry, and to the B2 theatre, in the form of 16-year-old Leigh – portrayed brilliantly by Yasmin Dawes – in Frankie Meredith's May Queen. We're going behind the scenes of what goes on in May Queen, including looking into the visual aspect of the show with movement choreographer Kimisha Lewis.
First brought to life during Paines Plough's Roundabout residency in Wood End last summer, co-produced with the Belgrade for their City of Culture programme, May Queen tells the story of Leigh, who is chosen to perform as Coventry's May Queen in the May Day parade. The traditional-style festival is put on in the hopes of lifting the spirits of Coventrians, after a challenging few years.
We follow Leigh on a rollercoaster experience from her most confident moments, to the emotional impact of the newfound fame and the marionetting by organiser Mark – who is also known as 'Marks and Sparks', hilariously nicknamed by Leigh.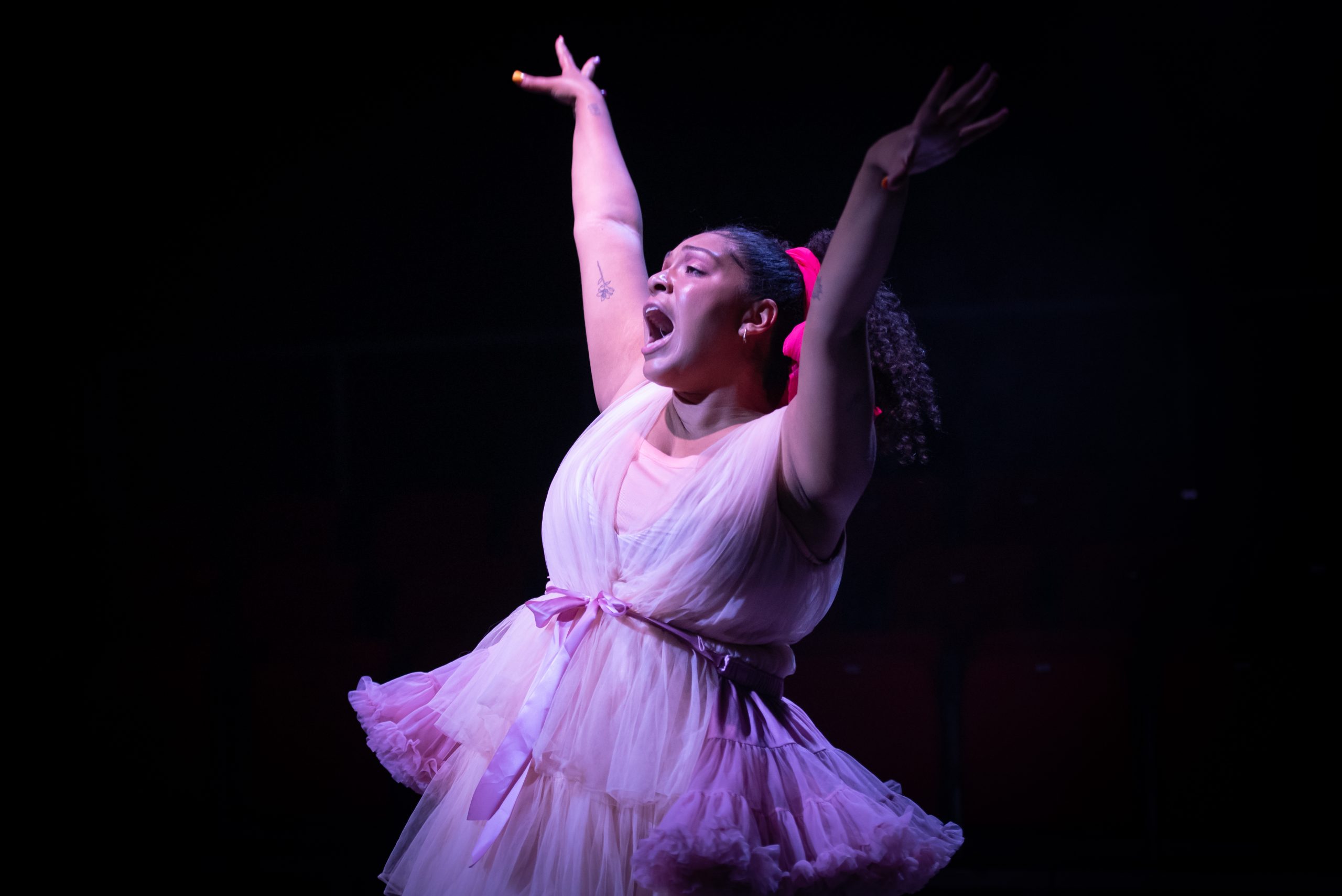 Yasmin Dawes in May Queen. Photo by Nicola Young.
The play is full of references to living and growing up in Coventry. From the times where Leigh would call to Lady Godiva for advice and reassurance in her darkest moments near Cofa's tree, to the names of roads, areas near her house and detailed descriptions of each building she walks into and her fascination with the council house in the city centre. Even her parade float is an elephant – an animal whose image features all over Coventry.
When speaking to Frankie Meredith, she mentioned that her writing journey began from a young age, writing scripts in different coloured pencils for each character. She became an actress herself, attending drama school in Essex, and then came back to her writing routes for May Queen. She used her experience of going into libraries, stories from friends, and personal experiences of spending her teenage years in Cov to write May Queen.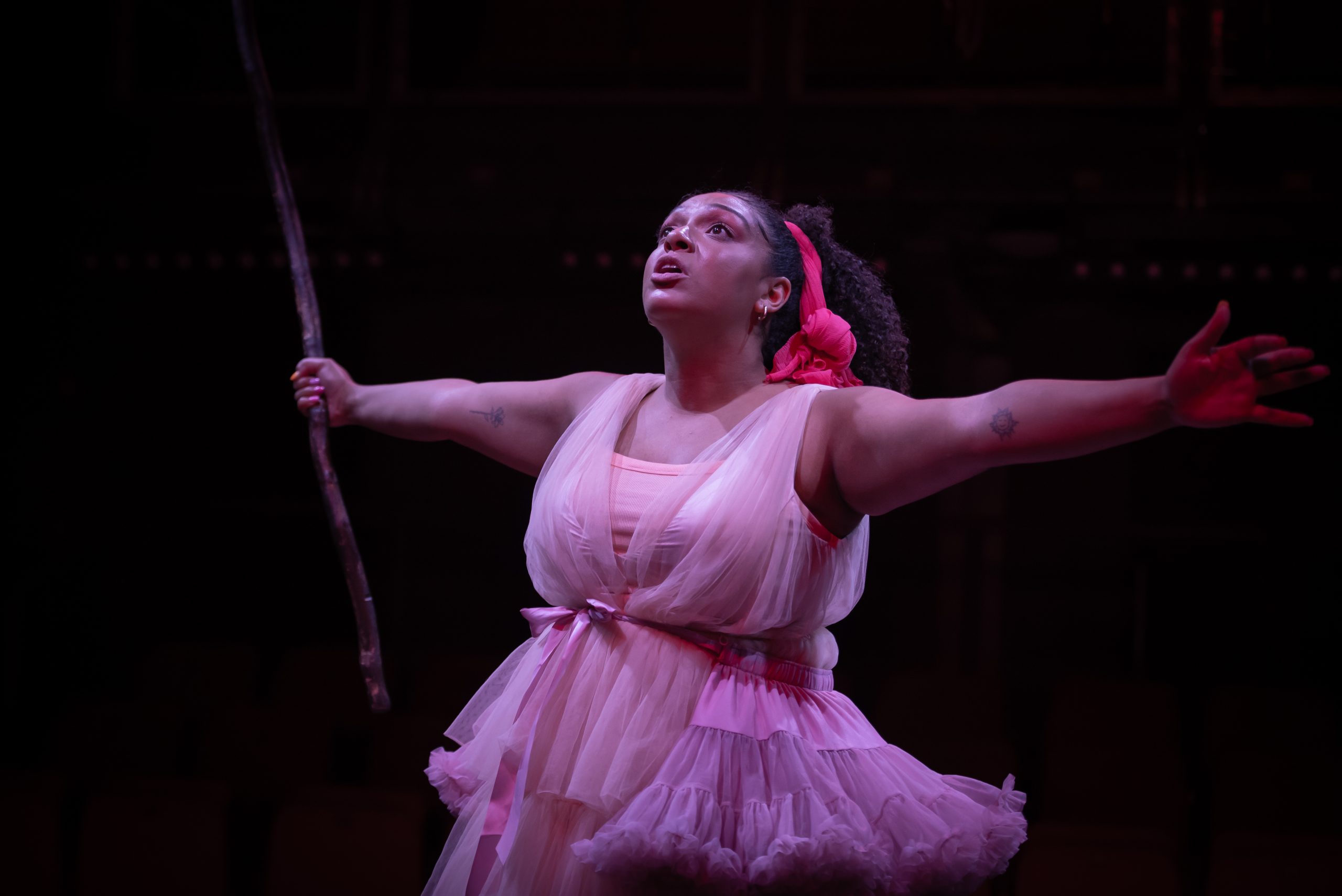 Yasmin Dawes in May Queen. Photo by Nicola Young.
Yasmin Dawes expertly creates an entire cast of characters with her movements and voice, choreographed by Kimisha Lewis.
Kimisha attended the Belgrade Youth Theatre from a young age, where she performed in a Holocaust-based show called Cat and Mouse. When speaking to me in an interview at press night, she told me that "that moment was when I realised I wanted to do theatre".
She would later come back to her stomping grounds multiple times in her career, including appearing in the first national tour of Noughts & Crosses, originating the role of Ms Senabo in Tom Wright's play I Ain't Dumb, and making a cameo his short film Sent to Cov.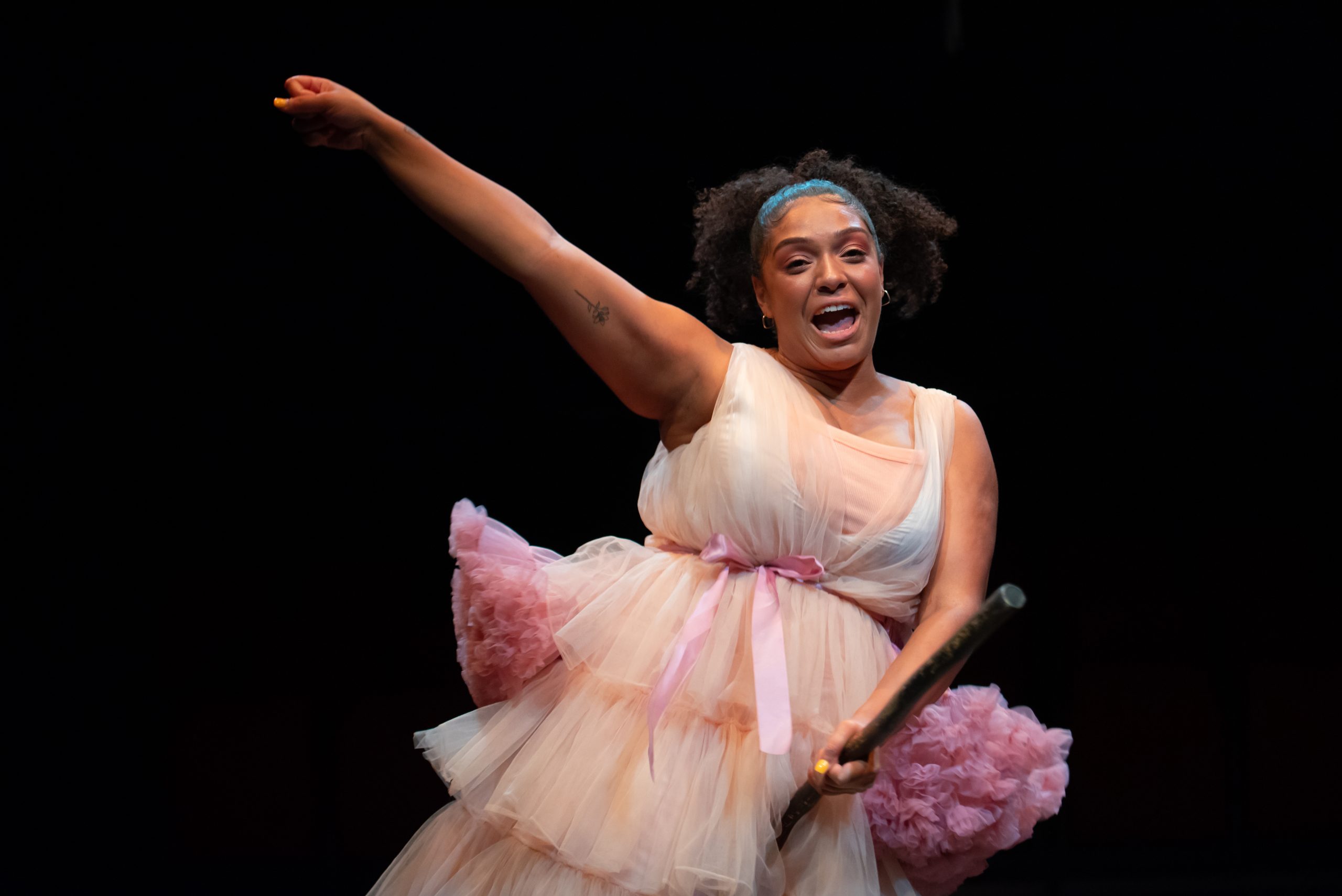 Yasmin Dawes in May Queen. Photo by Nicola Young.
Kimisha spoke about how creating the different characters with one person is just like a performance of multiple cast members, exploring the different energies of each character. We open with Leigh's jumpy and childish energy. Slowly, as the show progresses and Leigh encounters more terrible experiences, her own anxieties amount to a more insecure state, which soon exposes itself in anger.
Every detail, right down to the way she walks, completely changes between the moment we meet her and the person we come to understand as May Queen's events draw to a close. Leigh's movements, especially at the beginning, contrast to Mark's slow and sustained energy. Yasmin's embodiment of different characters gives us an impressively immediate understanding of who is talking.
'Godiva will you ride again?'
In this amazing play, a new Godiva certainly did.