Gordon Warnecke reflects on his roles in My Beautiful Laundrette on stage and screen
Over 30 years after starring in the Oscar-nominated My Beautiful Laundrette, actor Gordon Warnecke revisited Hanif Kureishi's groundbreaking story in a new stage adaptation performed at the Belgrade last year.
Famed as the film that launched Daniel Day Lewis' career, My Beautiful Laundrette made waves in 1985 for its portrayal of a same-sex relationship between a young British Pakistani and his former schoolmate Johnny – an unlikely romance sparked when Omar recognises Johnny as the ringleader of a fascist gang that confronts him in the street.
In the recent stage version (co-produced by the Belgrade Theatre, Curve, Everyman Theatre Cheltenham and Leeds Playhouse), Warnecke moved up a generation, playing father to his original character, with Omar Malik taking up his former role. But what was it like returning to the story after so long?
With an archive recording of the show now available to watch for free online, we revisited this 2019 interview where he tells us more…
What was it like to be a part of Hanif Kureishi's My Beautiful Laundrette in 1985?
My Beautiful Laundrette was my first film. Rita Wolf, who played Tania, knew Hanif Kureishi and suggested that he and the director, Stephen Frears, met me. I'd been doing lots of theatre since leaving drama school, but I was still very young and the film/TV business was totally new to me. At the time we thought we were making a 'small' film for Channel 4 to kick start their inaugural film season. It ended up being shown at the Edinburgh Film Festival and Jeremy Isaacs, who at the time was Head of Channel 4, pushed for a cinematic release – which of course it got!
The shoot was six weeks long and was a very enjoyable one. The cast and crew were all young guns with tremendous energy. Tim Bevan and Sarah Radclyffe had just started up Working Title, the company that produced the film, and Rebecca O'Brien was an assistant at the time – she's now Ken Loach's main producer for his film company Sixteen Films. It was like one big (young) happy family, as they say, and because Hanif's script was so good, we kind of knew we were on to something special.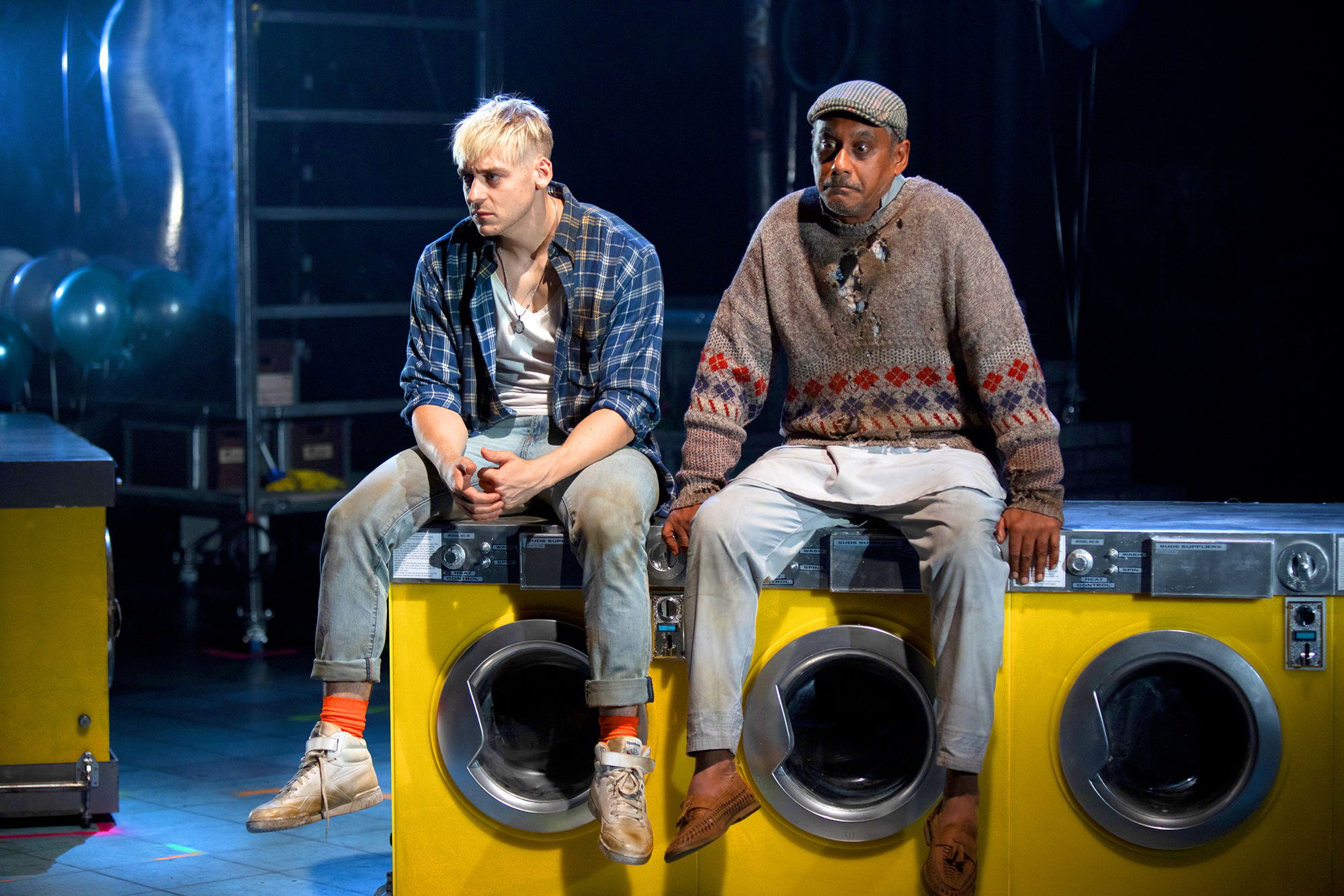 Jonny Fines and Gordon Warnecke in My Beautiful Laundrette (2019) credit Ellie Kurttz
How do you feel about returning to My Beautiful Laundrette, this time playing Papa?
To be honest I was bit miffed not to be asked to play Omar. Obviously bathing in Oil of Olay every day for 34 years has not helped me to stay looking young!
But honestly, it's a bit strange. I haven't seen the film for well over 20 years and to be revisiting it, though I have many memories of it and have had to talk about it on various occasions at screenings and events, is a bit like déjà vu. I'm honoured to be asked to be part of what is going to be a very exciting production and as an actor I feel blessed that I have been asked to play Papa. I'm going into it with what I hope will be with fresh eyes.
34 years after the release of the original film, how do you think contemporary audiences will react to this story? Have attitudes and society changed since then?
There are many elements within Hanif's story that will resonate with audiences of all ages who come to see the play. The desire to 'better' oneself, family issues and the endearing love story are things we can all understand.
In terms of whether things have changed, there has certainly been a continual integration of different cultures within our society and increasing acceptance, although in recent times, there has been a backlash towards the Muslim and Jewish communities from some quarters.
I think British society has become a lot more tolerant in its attitude towards gay people but unfortunately there is still a degree of homophobia, sometimes resulting in disgusting comments and even physical attacks on members of the gay community.
I would say that My Beautiful Laundrette is timeless. Even though it was written over 30 years ago, issues that existed then still surface now in one way or another, and with Hanif adapting his own script, the story is still being told in an informative and entertaining way.
What do you think putting My Beautiful Laundrette on-stage will bring to the story?
Nikolai Foster, the director, has some fantastic ideas how to bring the story to life on the stage, Hanif has written an amazing stage adaptation that really fleshes out the characters, and the excellent stage designer Grace Smart will be making the whole experience incredibly visual. The Pet Shop Boys who are doing the music for the show will also give it another dimension and the cast who are mostly young are brilliant. All of this combined with Nikolai's assured direction means this story is being given a fresh retelling… and it's about time, too!
My Beautiful Laundrette is now available to watch online, alongside a filmed discussion with the cast and creatives. The recording is free to view, but by making a donation, you can help to secure a future for our work and ensure that we are able to continue making shows like this when restrictions on indoor gatherings lift.