BAFTA nominee Gwen Taylor stars in Ali Milles' haunting new thriller
BAFTA nominee Gwen Taylor might be in her 80s, but she's still living life at full-throttle, and is currently starring in the UK tour of Ali Milles' spine-tingling new play, The Croft.
Produced by Original Theatre (the company behind the recent tour of Alan Bennett's The Habit of Art), this haunting drama was originally scheduled to show at the Belgrade Theatre from 15-18 April, and in light of the current lockdown, has now been made available to stream online.
But before that, Vicky Edwards spoke to her about thrillers, theatre and her touring prerequisites: a comfy bed with an en suite…
Gwen Taylor is a bit marvellous. Something of a national treasure now, her on-screen credits are numerous, including well-loved TV shows like Coronation Street, Heartbeat, A Bit of A Do and Duty Free, as well as a number of high-profile films including The Lady in the Van and Monty Python's Life of Brian. She's also a veteran of the stage, and over the years, has won numerous awards for her work.
But almost as remarkable as her career itself is the fact that at the age of 80 she is still living life at a lively pace, embracing a weekly touring schedule that would daunt younger actors.
"I am thriving on it. I love to work and I love a challenge," she says, a beaming smile confirming her genuine passion for schlepping up and down the country to perform.
"Although," she adds, "my husband comes with me and we do stay in hotels these days. I did 'digs' for years, but now I like an en suite and a comfy bed."
Gwen Taylor and Simon Roberts in The Croft Charlotte Graham
The challenge in question is a new play by Ali Milles, The Croft. Described by director Philip Franks as "a thriller with romance and secrets at its heart," The Croft is based on a true story. Set in the remote Scottish Highlands village of Coillie Ghille, the show follows the lives of three women from different eras, all intertwined by the croft's dark history. In the 1880s, Enid, the last person left in the village, takes in the Laird's pregnant daughter, Eilene.
In 2005, Ruth occupies the croft, which she and her husband Tom bought as a holiday home and where she later has an affair with local man. In the present day, Ruth's daughter Laura returns with her partner Suzanne after her mother's death and together they discover the terrifying truth that lurks within the croft.
"It is so exciting," Gwen enthuses. "I think of this as really trailblazing – my character blazes a trail for the two ladies that appear later in the play. Her courage is amazing. She is resilient and a survivor; a really strong female character. That really appealed to me when I first read the play."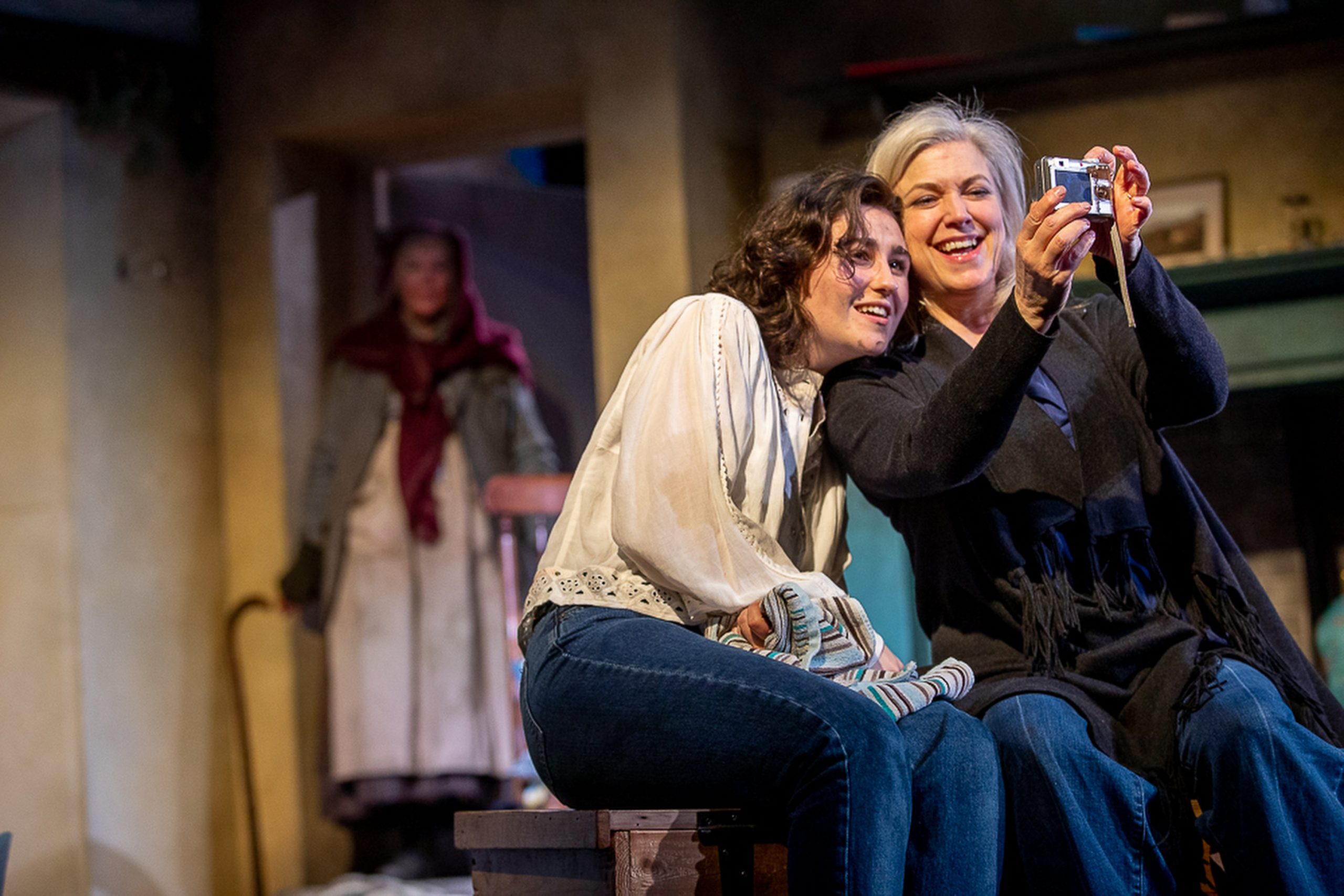 Gwen Taylor, Lucy Doyle and Caroline Harker in The Croft Charlotte Graham
Interestingly, she read The Croft when she was performing in another thriller; a stage adaptation of Hitchcock's film The Lady Vanishes, which also ran at the Belgrade.
"So my head was in a bit of a mind split – two brilliant thrillers playing two strong women!
"People love a good thriller, be it a book, a film or a play, but I think a stage production is different because of the involvement an audience feels and those moments when people jump as one. It is a mix of anticipation, live performance and fantastic storytelling – and this is a great story! You'll be trying to guess what might happen but the action may not go the way you think it will," she teases.
"The other thing about a thriller is that you have to work out if you believe in all the characters or if you think they are telling lies. People like the intrigue."
Having worked for the production company previously, Gwen has plenty of praise for The Original Theatre Company.
"I have worked for Original a couple of times and they have their hearts and minds in the right place. They are really building a reputation for great quality productions and it is lovely to have been in at the start of that."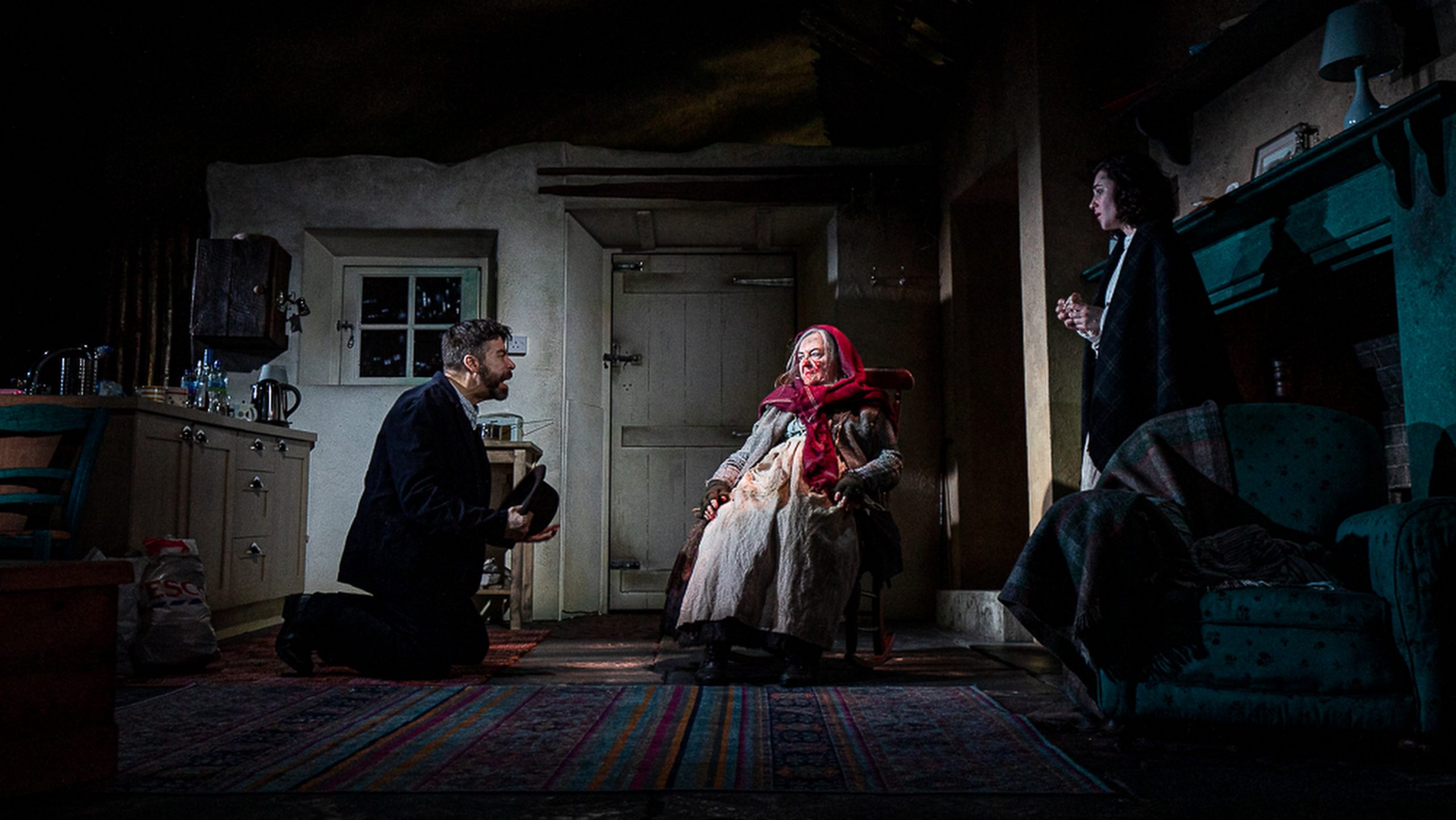 Drew Cain, Gwen Taylor and Lucy Doyle in The Croft Charlotte Graham
As well as raising big questions about whether the present can fully heal the past, The Croft is very much grounded in a strong sense of place, and how homes can be "haunted" by the ghosts of its former inhabitants. Gwen declines to offer any spoilers, but describes the outcome as 'very satisfying'.
"My character's trailblazing pays off against all the odds, but the croft is the link to it all. I have a great belief in bricks and mortar inhaling and keeping emotional happenings in the stone. I think that explains sometimes the feeling you get when you walk in somewhere. Buildings big and small take in trauma and love.
"When we first walked into our house in London I said to my husband that I felt that the house had been some sort of harbour for people. Later we found some letters that explained that the owners had taken in Jewish people during the war. Harbour was the word I used and that is what it was; a harbour."
The Croft is now available to stream online via The Original Theatre Company website until Tue 2 June. 
Interview by Vicky Edwards