Find out how Belgrade community partners and participants have been stepping up to lead their own projects
For an industry built around shared, live experiences, 2020 has been particularly tough. Yet in many ways, here at the Belgrade, we've responded to lockdown in the same way as we would to any other challenge: by collaborating with our communities and supporting people both within and outside the organisation to develop their own creative solutions.
Despite the obvious difficulties we've faced, lockdown has also presented opportunities to learn and experiment, both for Belgrade staff, and for the people we have worked with. Over the course of this year, we've been proud to see some of our participants and community partners step up into leadership positions as we've helped them to realise their own creative ideas.
Read on for a look at some of the brilliant projects they developed on their own initiative, with help and guidance from our team.
Hayley Harman – Creative Packs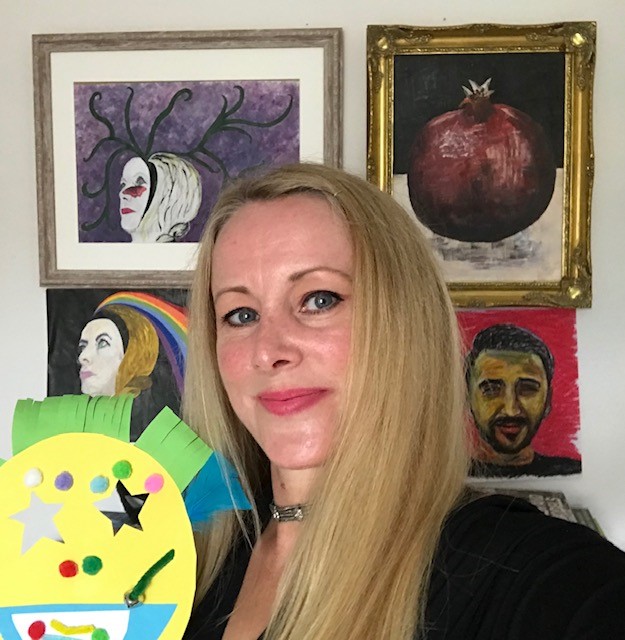 Hayley Harman became a member of Underground Lights Community Theatre in summer 2019, and later took up a volunteer role with the company in September. After lockdown was announced, the Underground Lights team were asked to share their thoughts on how they might keep members connected to each other while they couldn't meet in person.
Hayley hit on the brilliant idea of posting out creative packs, filled with materials and instructions for making masks, which they were then able to use during a Zoom workshop. Underground Lights works with people with experience of homelessness and mental ill health, some of whom have been unable to take part in online sessions, so the creative packs have been a real lifeline.
But it wasn't just Underground Lights members who benefitted – the project snowballed, receiving funding and support from a range of arts and homelessness organisations, and reaching hundreds of vulnerable and/or isolated people. An initial round saw packs delivered to around 400 people, with a further 200 sent out in a second round.
"I've always liked the idea of working in the arts but I never felt like it was accessible to someone like me. I thought it was for people who were posh, from well-to-do families, not for people from Wood End or people with mental health problems. I just thought it was out of my reach.

"Then one day [Underground Lights founder] Emma Ormerod did a talk about theatre as part of a course I was doing, and I decided to sign up. Ever since then I've seen my confidence growing. Underground Lights gives you space to share ideas, express yourself and develop your talents without feeling silly.

"Recently I've become interested in masks in the theatre and how they can be used as a therapeutic device and I wanted to explore that more. Initially I thought it would be nice to send out some stuff to members who might not have any materials to create at home, because I think creativity is good for your mental health. But then the project got a lot of support from other people and really grew from there.

"I know for a lot of people lockdown has been a really difficult period but I've found it to be a real period of growth and personal development. I'm really proud of having been able to help so many people, and the feedback's been really good as well. We had some great feedback from the people who have been in deep isolation in hotels and hostels. There was one woman who wouldn't speak to anyone, but through the creative packs she was able to break down that barrier, that mistrust, and then from that they found out more about her and she was able to communicate with people and not feel so alone. That's what we're aiming for isn't it – to bring people together?"
Cameron Austin – Telling Stories on (the Small) Screen blogs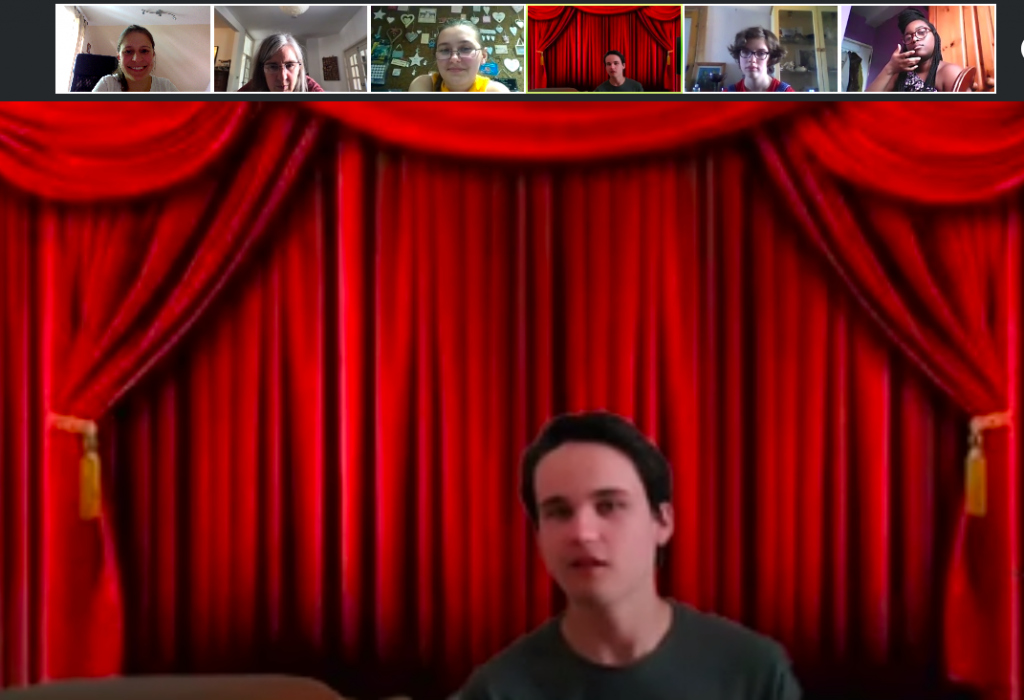 Teenagers were amongst those whose lives were most dramatically turned upside-down by lockdown, with thousands of young people across the UK unable to attend school, take their exams or participate in rites of passage like school proms and leaving parties.
Studies have shown that mental health problems have risen significantly amongst young people in 2020, partly as a result of isolation and anxiety around their futures, so keeping in contact with our young participants was a top priority for us at the Belgrade.
One way we did this was through Telling Stories on (the Small) Screen – a nine-week project exploring Zoom as a platform for creating new work. Among those who took part was Cameron Austin, who took the initiative to document the process through a series of weekly blogs.
"I volunteered to do a blog as I thought it was important to share with others what we were capturing within our sessions and let the public know that the lockdown situation was not going to stop us being creative and continuing with activities that we enjoyed.
"This was the first experience for me writing a blog of any kind, but I found the process really enjoyable. During the lockdown I found it incredibly hard to motivate myself as I had nothing to look forward to initially. Along with the sessions themselves, the blogs gave me deadlines and goals to aim for in a time which had little structure – which provided me with a sense of purpose.
"I also thought it was important to share my emotions and feelings, so people on the outside could see how lockdown was affecting youths and their mental health. Lockdown in general has been a real struggle for many of us, and I had hoped that life would have begun to return to some normality by now, but unfortunately that has not happened.
"I am just grateful that we can fall back on digital and that projects like this can help to hold off the feelings of isolation a little bit. Telling Stories on (the Small) Screen was a really positive experience for me, and I think everyone needs something like this to be part of in times like these."
Niki Doughty Lee – Pop-Up Craft Shop and Makers' Markets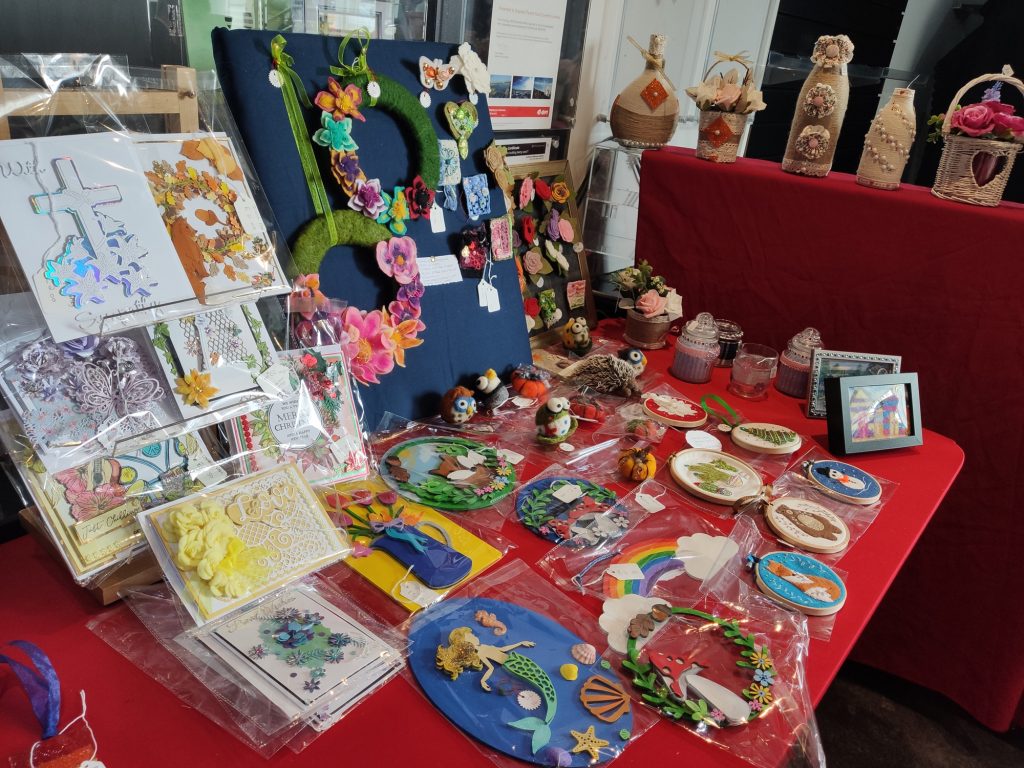 When Niki Doughty Lee began hosting regular Needlecraft for Wellbeing sessions at the Belgrade last year, it was partly with the intention of providing a space for older people at risk of isolation to gather and socialise in a relaxed, informal setting.
Before lockdown, her Craft On group was meeting weekly at the Belgrade on Thursday afternoons, and had grown to around 30 members. During lockdown, Niki worked hard to keep in contact with group members, primarily via Facebook, but also via phone, and shared lots of creative ideas to help them stay busy.
As restrictions began to ease, she also worked closely with our Front of House team to organise a series of Pop-Up Craft Shops, providing a platform for local artists and makers to sell their wares, as well as raising money for the theatre. Items ranging from embroidery to pottery were sold to people visiting the Belgrade café, with a £10 fee for hiring the space helping to support the Belgrade Theatre.
Over the summer, Niki organised and ran an outdoor craft market in line with covid guidance, and this month, with the UK back in lockdown, she's created an online Christmas Makers' Market. Over the course of the year, she's raised over £900 for the Belgrade through her pop-up shop, markets and by selling handmade face masks, and we're incredibly grateful for her hard work and generosity.
"The seeds for the pop up shop were sown by a discussion I'd had earlier with Liam [Commercial Manager at the Belgrade]. The theatre had made the decision not sell single-use plastic items at the merchandise counter over Christmas as it normally would for panto, and he'd said to me that if I wanted to sell anything that I or other members of the group had made then we'd be very welcome to use that space.
"Just after the first lockdown, when we'd started to come back into the theatre for coffee, I was discussing it with one of our members and it occurred to me that it would be a really good idea to use that space sooner, a) to support local craftspeople and independent businesses and b) to make a bit of money for the theatre. Not that £10 is a lot, but over time it has really mounted up.
"Running the pop-up shops has definitely played to my strength. I enjoy organising things and I was given a lot of free reign to do this. I haven't got anything out of this for myself other than the personal pride and satisfaction – but that's enough for me. The fact that the theatre has trusted me to get on with it has been really good for my self-esteem as well.
"Taking the Christmas market online has been a big learning curve for me. I'm not very good with social media and technology so it's been a big challenge, but I do know that people have sold items, and when people have been looking to buy specific things, I've worked quite hard to put them in touch with relevant sellers – so I've tried to keep up a level of engagement rather than just leaving them to get on with it.
"The other big challenge has been keeping in contact with members while the theatre has been closed. I don't keep a formal register of phone numbers and addresses, and unfortunately a lot of our members are older people who either don't use the internet or aren't very confident getting online, so we have lost touch with a few people this year. When we started up in-person sessions again, there was also a lot of anxiety about coming back, especially from people who rely on public transport to get around.
"But the good thing is that during this second lockdown, we're being allowed to continue meeting at the theatre, because we've been told we meet the criteria for a support group. There are some stipulations around that: we all sit at our own individual tables so we're socially distanced. But for most of us – myself included – I think we're still better off sitting there knitting with 8 or 9 other people than we would be staying at home.
I know that I sometimes get really lonely during the day, and for a lot of people the group has been a real lifeline. That's why I've been keeping it going even when it's been difficult – because it's contact for me and it also makes me feel like I'm doing something useful."
Kaya – Coronavirus Time Capsule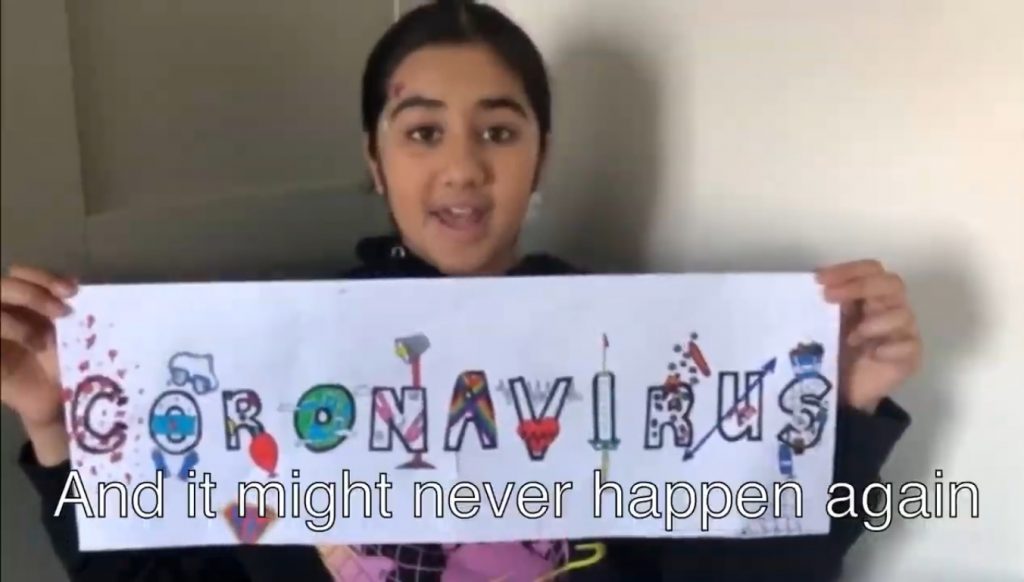 In addition to holding Zoom sessions for our regular Youth Theatre members, the Belgrade also worked with a second group of vulnerable young people to create a Coronavirus Time Capsule, in partnership with our friends at Grapevine.
Based on a model developed by London-based youth theatre Company Three, the project saw young people document their own experiences of lockdown by creating a new video every week. Each video responded to a different topic such as home life, school, exercise or friendship.
Together, the videos offer a window into the worlds of the participants involved, as well providing the young people with a record of this extraordinary time that they can look back on.
After the main project drew to a close, one enthusiastic group member, Kaya, continued to create video content of her own, which we'll be sharing this week as part of our Lockdown Lessons series.
"When I was invited to be part of the Coronavirus Time Capsule project, I jumped at the opportunity, because it had been so long since I'd had the chance to do anything creative. Even though I didn't know anyone else in the group, I also thought it would be a great way to stay connected with people.
"I'd never created videos like this before, but I found the process really fun. It made me use my imagination and think outside the box, finding ways of being creative with the space I have at home and using household items as props.
"Without this project, I think I'd have found this time really boring, frustrating and scary. The project was a great way of keeping our minds occupied, away from corona and all the other bad things on the news. I love acting and drama – it really makes me happy, and it has helped me to stay busy.
"I've also really enjoyed collaborating and connecting with other young people in the same position. Every week I watched the videos as soon as my mum was emailed, and I loved seeing what everyone else had created. One of my favourite moments was in Week 12 when Byron performed a rap about things happening in his life. I thought it was really brave of him to express his emotions like that.
"The project was a lifeline for us – it gave me something to look forward to each week and kept me going through the uncertainty. It made me want to get up and create every day. I wish I'd known at the start that coronavirus was going to last as long as it has and that there might be more lockdowns, but I've learned that staying connected with friends and family as much as you can really helps everyone in these times."
At the Belgrade Theatre, our team have been working hard to continue engaging with youth and community groups during lockdown, even as we face the greatest crisis our industry has seen in a lifetime. With over 70% of our income having vanished overnight, we are relying on diminishing reserves and the generosity of donors and supporters to continue with this vital work. To help secure a future for our theatre and for projects like those mentioned in this article, please consider making a donation to us online.