Michael Southan's hilarious new comedy Kerbs premiers in B2 this month. We recently chatted to Michael about his inspiration behind the show.
Kerbs is the brand new comedy from Wolverhampton-based, disabled playwright, Michael Southan. A laugh-out-loud conversation about sex, romance and disability, Kerbs gets real about what it's like to date as a disabled person.
Making its premiere in B2 this month, Kerbs is our newest co-production for Coventry UK City of Culture 2021 with the UK's leading disabled-led theatre company, Graeae.
We recently chatted to Michael to find out more about the inspiration behind his story.
Tell us a bit about the story of Kerbs.
Kerbs is a rom-com about the blossoming of a relationship between Lucy and David, who are both disabled and wheelchair users. The story follows their journey to find intimacy and time alone with a getaway break to a caravan park in Minehead.
The play explores taboos around sex, disability and about the logistics of a romantic relationship when disability is a factor.
Where did the inspiration come from to tell this story?
I began by thinking about the love story genre, and how much space it has in our lexicon of narratives and where the stories about people who look like me were. It's also important to say that you don't often see stories with disabled characters where their sexual desires are such a big part of their motivation.
A couple of years before writing Kerbs, I remember sitting down in front of the TV with my family and watching a scene with a wheelchair-using actor in it. The scene began in front of some steep stone steps. We couldn't help but joke "I bet he had a nightmare getting his chair down there." We laughed and then everyone turned around and said "you should write a play."
It stuck with me. The play gave me a chance to write about what navigating the world as a disabled person can be like.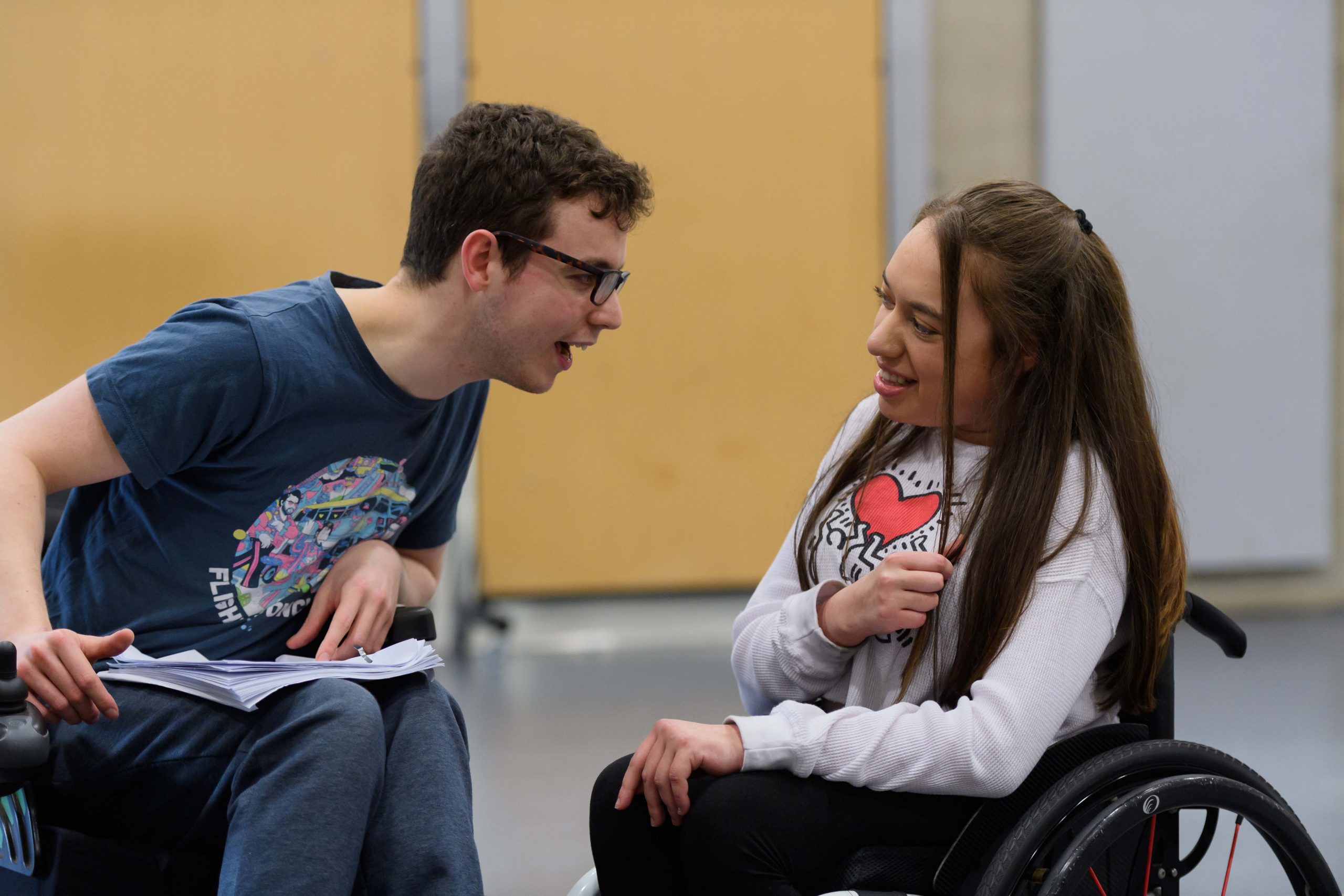 Jack Hunter and Maya Coates in rehearsals for Kerbs. Photo by Joe Bailey
How did you come to be a writer?
For as long as I can remember, I've always had a fascination with words, language, and the rhythm of people's speech. I grew up in a busy house with a large extended family who were often exchanging stories. There's something lovely in seeing the joy in someone's face as they tell a story.
I used to harbour hopes of further actor training once I'd finished my drama degree. I'd written a bit in my student days but hadn't put two and two together. During my final year, I got on to the one-act playwriting module. I really enjoyed it, got nice feedback, and the rest is history.
In 2017, I started Graeae's Write To Play development programme, with five other disabled writers – we're all still really close! Kerbs was the play I began to write during that year and I'm so grateful for the support that Graeae have given me and the play over this time. I'm glad to have been a part of it.
How important is it to tell this story?
A big theme in the show is connection and togetherness, which obviously is something that's been so hard to keep in the past two years. I think all art can bring people together, specifically theatre with its reliance on people sitting together in a room having a shared experience.
I'd also hope that other disabled people watching see themselves on stage and know that our stories, thoughts and desires are valid.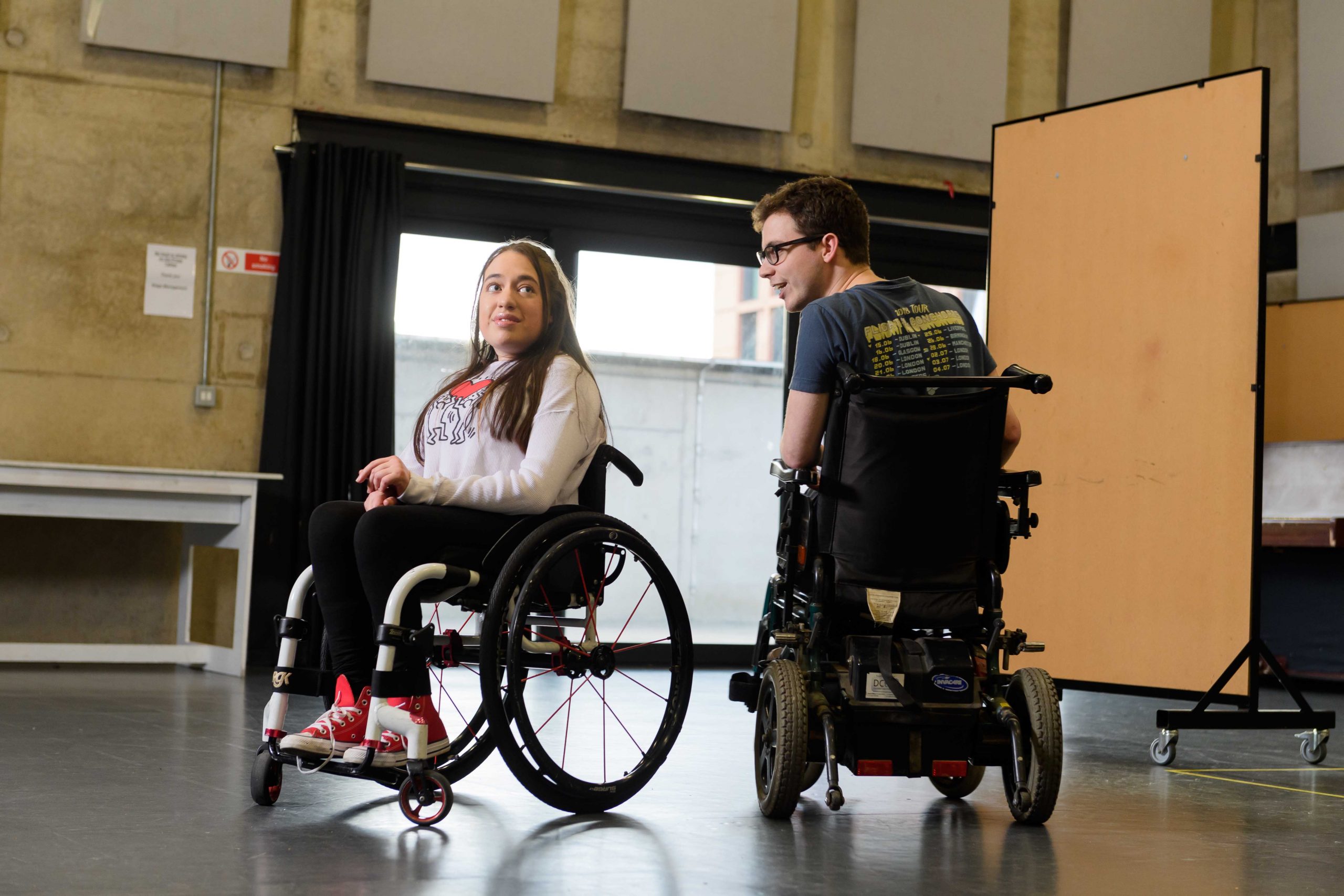 Maya Coates and Jack Hunter in rehearsals for Kerbs. Photo by Joe Bailey
Sex between two disabled people isn't often portrayed in film or on stage, so it's great to see it starting to happen. How have you approached opening up that conversation?
Disabled people have all kinds of relationships all of the time. The thing I keep coming back to is "what is the truth of this moment? What is the universal truth here? What can audiences hang their hat on here?" As with all plays, "what is it to be human?" It just so happens that these humans have disabilities.
How does it feel to have your first play making its world premiere as part of Coventry's year as UK City of Culture?
Working on the play, I've spent a lot of time in Coventry, and I've become extremely fond of the City and the people in it. I'm a Midlands boy at heart and the fact that I'm flying the flag for the region makes me very happy.
I'm thrilled that Kerbs has found a home here, and whatever happens from here on out, I'll always feel connected to the Belgrade and Coventry.
Why should people come to see Kerbs at the Belgrade?
I think it'll give people a great night out. With lots of comedy, spark and a dash of hope.
Kerbs premieres in B2 from Sat 26 Feb – Sat 5 March. Tickets are available by phoning the Box Office on 024 7655 3055 (phone lines open 10:30am – 2pm, Mon – Sat), or visiting www.belgrade.co.uk where tickets are even cheaper.