We recently chatted to Ruff Tuff's choir leader Wes Finch to find out more about his experience with the community choir.
This month, The Ruff Tuff Cream Puff Estate Agency makes its world premiere on our Main Stage. The new musical, which tells the true story of the world's first 'estate agency for squatters' and the foundation of a new nation, Frestiona, features a community choir of people with lived experience of homelessness.
The choir includes members of Underground Lights, who were involved with Cardboard Citizens' residency Cardboard Camps earlier this summer.
Wes Finch is leading the community choir, and we chatted to him about his experience on Ruff Tuff so far.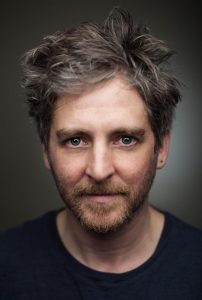 What are your connections to Coventry and the Belgrade?
I was born in Coventry and after travelling and living in a few different places returned to my home city a few years ago to live. I do a lot of freelance work involving music and writing and when I came back, I kept my eyes and ears open for any opportunities in the city.
I met Emma Ormerod at an open event at the Belgrade. Emma heads the Underground Lights Community Theatre and asked me if I was interested in coming along to a session, seeing how they worked and perhaps being involved.
After meeting the team and the members I ended up getting involved by assisting with workshops and then eventually running sessions in music and lyric writing with the members.
I've recorded studio versions and made videos for various songs that we've written together and assisted on various other projects. I think my favourite project was making silent films with members where they had made their own masks and played commedia dell'arte characters.
Underground Lights put me forward for this current position as choir assistant which is also based at The Belgrade Theatre.
How important do you feel it is to have people with lived experience of homelessness involved in this production?
People who have experienced life without the security and safety of a fixed abode are often overlooked and unheard in our society because of misconceptions and misunderstandings. I think experiences like that can be tough on people in ways that those of us that don't experience homelessness can't fully grasp.
Opportunities like this are just brilliant in including those that might feel excluded, building people's confidence, skills and experience and giving people a sense of being part of something whilst having a lot of fun.
How has the experience been so far? Are the participants enjoying themselves?
It's a new experience for me and all the participants, to be working with organisations like The Choir With No Name and Cardboard Citizens within, what for most of us, is the familiar environment of The Belgrade Theatre.
It presents a new set of challenges for all of us involved, working hard towards putting on a high-profile show, but so far everyone has risen to those challenges and is making a fantastic sound when all singing together.
It's really cool to see people thoroughly enjoying themselves as they learn their parts and hear these songs come together and realise what all their hard work is going to be part of.
What has it been like to work with Cardboard Citizens, who are so focused on telling the stories of those with lived experience of homelessness?
The cast are a very talented and versatile bunch of actors and musicians and are really enthusiastic about joining with the choir in these songs we are learning.
It's great to be able to see the participants working with the directors at Cardboard Citizens and see how an organisation of that size works. They are presenting a brilliant (and true!) story that has a lot to say about homelessness in our society.
Pete and Sally from The Choir With No Name are so good at teaching and supporting everyone in learning the songs and the choir's model of all eating together at the end of each rehearsal is a great way to relax and bond after a session.
How does it feel to be working on a show for Coventry UK City of Culture 2021?
I've been fortunate to work on a few projects during the City's year of Culture. This one feels particularly good in bringing different groups of people together and including and giving a spotlight to local people alongside groups from outside of the city. It's also in service of a fascinating and true story from 1970s London with relevant themes for today. It's also very funny too!