Mahendra Patel of Kadence Music discusses his free online hand drumming workshops, running every weekday during the lockdown.
While our building remains closed to the public during the current lockdown, we'll be using our Saturdays not to talk about the work the Belgrade is doing, but to highlight some of the other exciting things happening across Coventry and Warwickshire.
Every weekend, we'll share a selection of good news stories and projects and events to look out for on our social media platforms, and we'll also dedicate a blog post to one of the projects that's got us most excited.
This week, we spoke to Mahendra Patel of Kadence Music about the FREE online hand-drumming workshops he is currently running every weekday. Having previously worked with Mahendra on live events and shows at the Belgrade Theatre, we got in touch to ask him a few questions about what he's been up to during the lockdown – here's what he had to say.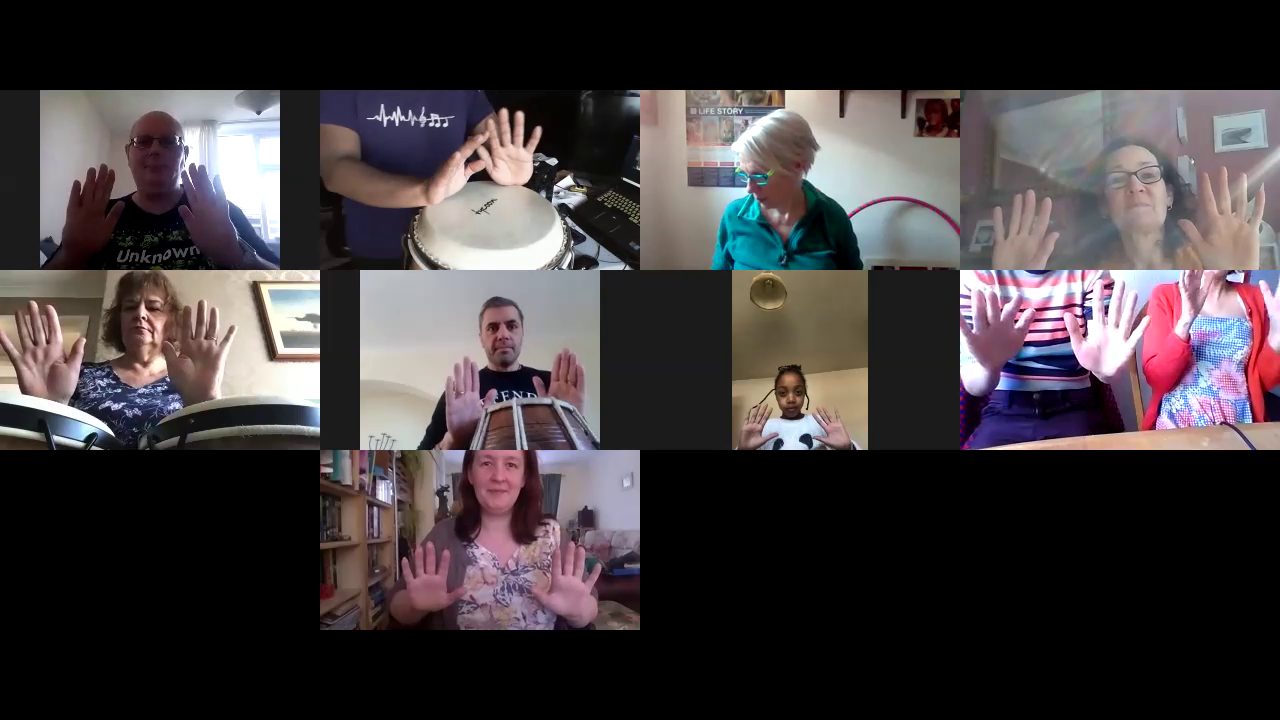 Kadence Music - Hand Drumming Workshop
For those who aren't familiar with your work, could you give us a bit of an intro to Kadence Music. How long has it been going and what does it offer?
I started Kadence Music started in 2013. After having a mild stroke in 2010, I realised that the only way I could get back to earning an income was by becoming a full-time musician. As I wasn't a leaving a full-time job to do this there was no risk, just patience.
I started off by providing hand drumming percussion to singer-songwriters, doing a lot of unpaid work: open mic events, free gigs in pubs and others where they barely paid you. At that point, my aim was to get my name out around the West Midlands.
After saving up what money I could for a while, I had a hand drum made specially for me by an exclusive darbuka/dahola maker in Greece. It's a very specialist instrument – I had to prove I was worthy of having a custom drum built for me, and it took around five months from design to delivery.
After that, I started to get more bookings coming in. As a child, I learned to play by ear and this has always been my saving grace. The thing that has most impressed the bands and singers I've played with in the past has been my ability to rock up a few hours before a gig, meet everyone for the first time and start playing like we've known each other for years!
These days, I'm able to be very diverse with my offer, which includes playing in theatre shows, music production, teaching large groups and one-to-one lessons, drumming for health at doctors' surgeries, PA and lighting hire, sound engineering, live DJing and hand drumming at events.
Tell us about the online workshops you're running during the lockdown. Where can people find them? How do they join in?
To help me keep my dream alive ahead of 2021, I decided to start offering online hand drumming workshops. Every weekday (Monday-Friday) at 2pm, you can join in via WebEx for some valuable time out, to meet other people online and learn a few hand drumming patterns. Simply follow this link to take part.
Each week we start on Monday by learning a short rhythm, then each day we add to it until the end of the week Friday. The hope is that eventually we will have created enough rhythms to present a digital drumming show.
*The specialist drum you had made up sounds pretty serious. Do people joining in need any specialist equipment or experience to be able to take part? *
Not at all – all you need to do is follow the link. It's completely free to take part and you don't need any experience. I will be taking you through warm-ups, teaching you the best techniques for striking your drum or other objects, and awakening your musical prowess.
If you happen to have your own drum at home – great! But if not, you can use table tops (as long as they're not glass!) or any metal, plastic or wooden containers you can lay your hands on.
The one thing I would recommend is that you join the workshop using a laptop, tablet or desktop computer if possible. It is possible to join on a smart phone, but you may find the sound and picture quality aren't as good, and the picture will obviously be smaller.
Who do you hope will take part? Is it mostly suitable for children or adults? Or both?
Anyone can take part – kids or adults. There is no age limit: however, children under 7 will probably need an adult to help them. Please do let me know if you'd be interested in arranging a separate one-to-one lesson as this is also something I can offer.
Kadence Music's online hand drumming workshops take place at 2pm every weekday. You can join in with the workshop for free by following this WebEx link, or head to Kadence Music's Facebook page for more information.