Monty Python's first ever live stage performance took place on the 31st January 1971 at the Belgrade Theatre, Coventry. This is the story behind that momentous occasion!
In 1971, Colin Richardson was the booking consultant for the Lanchester Polytechnic's Arts Festival – a festival which boasted the first ever live stage performance of Monty Python's Flying Circus. 50 years on, Colin still thinks of it as his biggest achievement.
He recently got in touch with us to tell us about his experience…
The 1971, the Lanchester Polytechnic (now Coventry University) Arts Festival bill included many well-known artistes. The 10 day programme of events featured Elton John, Ralph McTell, Caravan, blues legend Arthur 'Big Boy' Crudup, Leon Russell as well as Andre Previn (conducting the London Symphony Orchestra) and jazz legend Ronnie Scott; but the high point of the student-run mixed media festival that year was, without doubt, the first 'Live on Stage' performance of Monty Python's Flying Circus.
So, how did a modest little Polytechnic in Coventry come to be favoured with such a major coup? Here's how it came about:
I had already been the Festival's booking consultant for the previous year, working closely with Ted Little, the student entertainments organiser. We made a good team, as he was always open to my ideas and suggestions, though quite firm of mind when it came to making final decisions as to which acts were selected. I guess he must have been satisfied with my efforts, as he retained my services for the following year.
At some point during the planning of the 1971 programme, he asked if it would be possible to book a few members of the Monty Python team to perform a couple of sketches from the cult TV show, which were immensely popular with the students.  I was pretty doubtful, since none of them, as far as I knew, had ever made any live appearances as Python characters hitherto and I was fairly sure that they only produced their unique humour for the TV show.  However, I promised that I would try to find out if any of them might be interested in performing at the Festival. I had no idea who their agent was, but, as luck would have it, there happened to be an indirect conduit to one Python ear.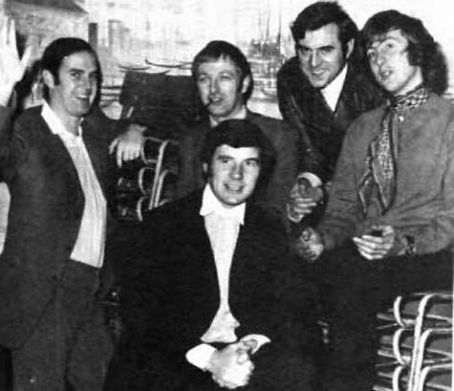 (L-R) John Cleese, Michael Palin, Graham Chapman (behind), Terry Jones, Eric Idle
It went like this: I had a little band going at the time… a quintet playing jazz and dance music around the club/college circuit and we had an American singer by the name of Jean Hart.  She happened to be the girlfriend (and later, wife) of the comedian Bill Oddie, who had, on one occasion, 'sat in' with the band, singing (if memory serves) a credible version of Summertime. He knew most, if not all, of the Python team, so I asked him (through Jean) if he knew how I could go about contacting their representative. Word came back from Bill with, to my astonishment, an offer to introduce me to Eric Idle and in due course a date was set to meet with him at his apartment.
Being something of a fan myself, it was with considerable trepidation, awe and downright nerves that I presented myself on the day, but Eric very quickly put me at my ease with his relaxed and friendly attitude. He asked a few searching questions about the Festival's organisation, its history, what dates we had in mind etc. I mentioned a few names of artistes that had already been booked for that year, as well some of those who had appeared in the previous 2 years and described how well-run it was.
At this point, I was expecting him to indicate who, if anyone, might be up for taking part, when he said something that made me struggle to contain my excitement. It was along the lines of: "Well, your timing couldn't be more fortuitous (he might even have used the word 'serendipitous') as we've been talking about the possibility of doing something live on stage and, if we did, it would definitely be somewhere away from London in case it didn't work for us. Now, if you can find out whether the Belgrade Theatre is available for, say, a 3-night run, that would certainly increase the odds of us agreeing to do it, as we've all worked there before and know that it would be an ideal venue to try out a live show."
In something of a daze, I promised to get back to him A.S.A.P. I called Ted Little right away, to give him the astounding news. He didn't seem to take it in at first and kept asking which of the Pythons was I talking about. I told him "All of them…the 'tout ensemble'.. the whole "Flying Circus!" After they brought him round, he immediately checked the Belgrade's available dates and phoned me back to say that he could get the Sunday 31st January, Monday 1st and Tuesday 2nd of February, just a few days into the Festival. I passed this on to Eric and, quite quickly, the dates and the deal were agreed.
For the life of me, I can't remember the fee or any other contractual details, except that the shows would start at 12 midnight and that the fee was extraordinarily reasonable. In a cloud of euphoria, I passed the good news on to Ted. Tickets went on sale a few days later…and all three nights sold out in about 20 minutes!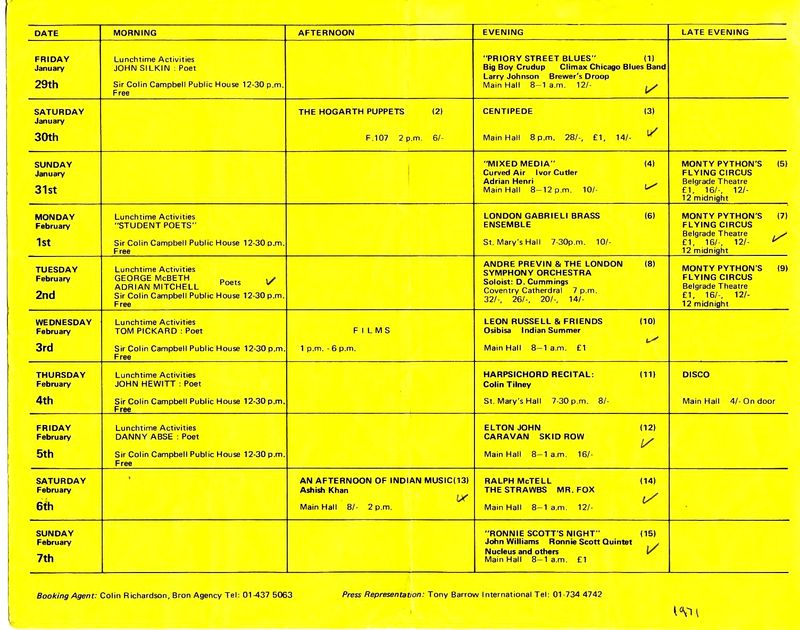 Lanchester Arts Festival Programme, 1971
Needless to say, every show was a fantastic success.  The student audience was ideal, as they were a proven fan base who already knew most of the sketches, sometimes word-perfect. Not that this in any way diminished their noisy enjoyment of them. I recall vividly that, on the first night, the entire front row of the gallery was wearing 'Gumby' style knotted handkerchiefs…to the astonishment of the first Pythons on stage.
An interesting coda to this story is that a couple of weeks before the premiere, I received a phone call from the plummy-voiced P.A. of an illustrious music biz heavyweight (no names, no pack-drill!). After ascertaining that I was, indeed, the person responsible for this 'showbiz' coup, he informed me that Mr. ******** would 'like a box, for the first night'. After a deep breath and summoning my most innocent of tones, I asked: "What kind of box would he like? Will orange do?"  Well, that went down like the proverbial lead balloon. A few moments of silence, then: "You do realise that it's Mr ******** we're talking about?" To which I politely replied: "Even if it were the Queen Mother, I still couldn't get you a seat, let alone a box. It's completely sold out." There was a gasp of incredulity and frustration followed by the crash of the phone being slammed down at his end. I have to admit that I got a degree of quiet satisfaction from the exchange, which just added to my immense feeling of pride at helping to bring about the very first 'Live on Stage' appearance of Monty Python's Flying Circus!