Try your hand at adapting a scene from a novel after hearing from from the experts
Ever read a book and thought that it would make a great film or play?
Over the years, novels have been an important source of stories for the stage and screen. Many of our own productions at the Belgrade have been based on or inspired by books, from Noughts and Crosses to Frankenstein.
In this week's Weducation activity, we'll hear from three playwrights who have adapted novels for the stage, and you'll also have the chance to try your hand at turning an extract from a book into a script of your own.
Have a listen to the video below of playwright Emteaz Hussain talking about her adaptation of Crongton Knights. Pay attention to what she says about trying to be faithful to the language Alex Wheatle gives to his characters, and staying true to the themes of the book, while being free to make changes to the story.
Billionaire Boy
Birmingham Stage Company are well-known for their adaptations of David Walliams' books, as well as for their Horrible Histories Live productions. Below, company founder and manager Neal Foster talks about his adaptations of Gangsta Granny, Awful Auntie and more recently, Billionaire Boy.
"It's wonderful to adapt books by David Walliams because he has such a theatrical way of writing. This is no surprise given David's long history of writing and appearing in theatre and television productions. In fact, before he became well known, David had spent much longer than people appreciate writing scripts for all sorts of much loved comedy programmes. So all his books lend themselves beautifully to theatrical adaptation.
"David is also an expert in structuring his stories, so just when you think that you know how the story is going to go, he takes a sharp left hand turn and heads down another road you didn't see coming. This makes adapting his books very exciting because he gives you such a strong skeleton on which to base the play.
"The stories always contain a lot of humour and I have loved bringing his characters and situations onto the stage where you can really develop the comedy. The characters are always fun to bring to life and it's fascinating giving them dialogue in scenes where David has only described a situation but not told you exactly what the characters are saying."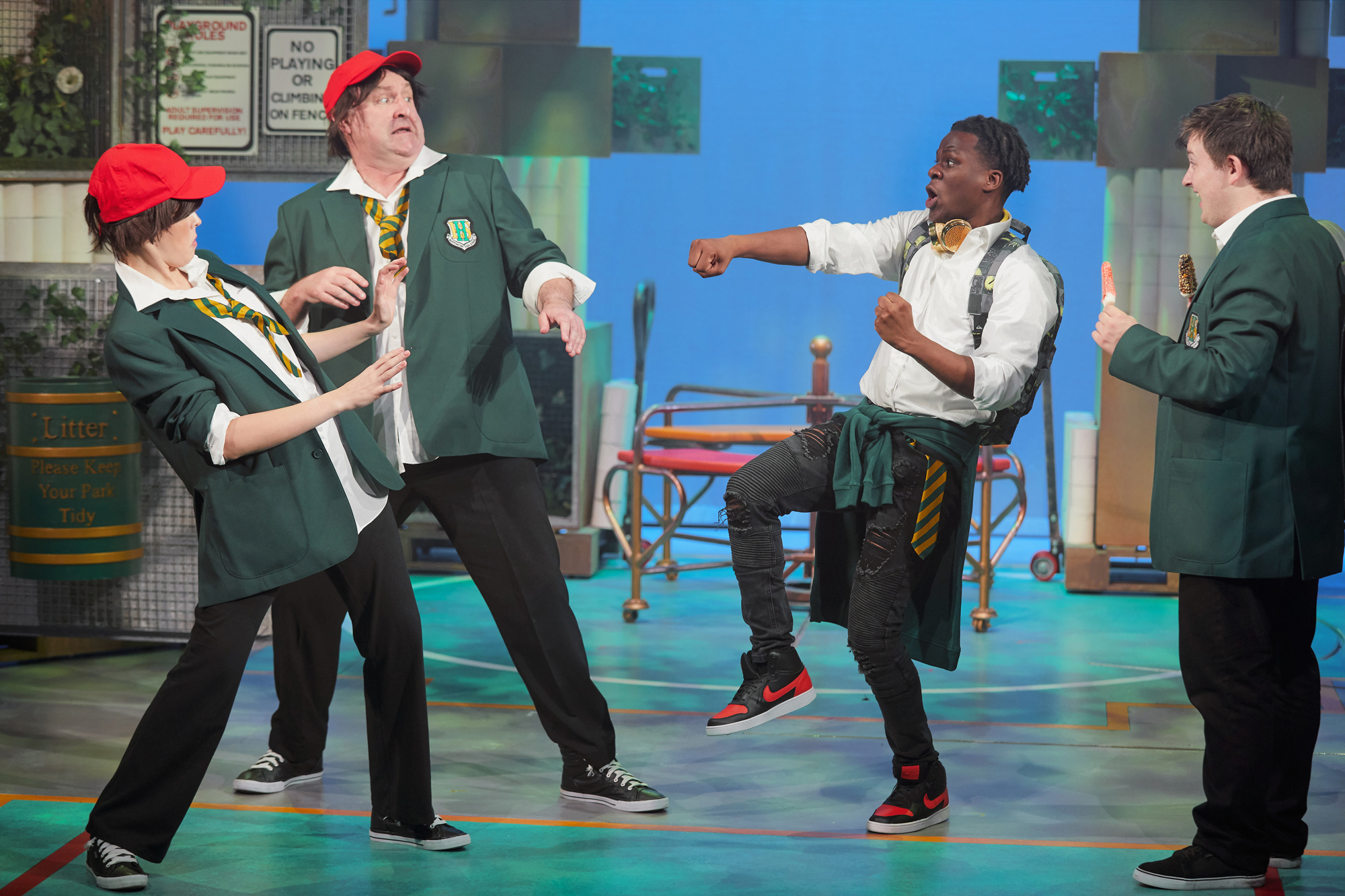 Billionaire Boy - credit Mark Douet
Activity 1
Take a look at the two extracts below, taken from the Billionaire Boy Teachers Resource Pack, which you can download in full here. The first extract is from David Walliams' novel, Billionaire Boy, and the second is from Neal's adaptation of the story, which was due to be performed at the Belgrade this spring.
As you read, think about:
What has stayed the same?
What changes have been made and why?
Is there anything you would do differently? Why?
Extract 1 – Book
''We still have the small matter of last night's homework,'' Miss Spite announced with an evil relish that suggested she was desperate for someone to have failed to do it.
Joe reached his hand into his bag. Disaster. His exercise book wasn't there.
He had spent all night writing this intensely boring 500- word essay about some old dead Queen, but in the rush to get to school on time, he must have left it on his bed.
Oh no! he thought. Oh no no no no no….
Joe looked over at Bob, but all his friend could do was grimace sympathetically.
Miss Spite stalked the classroom like a Tyrannosaurus Rex deciding which little creature it was going to eat first. To her evident disappointment, a field of grubby little hands held aloft essay after essay. She gathered them up before stopping at Spud.
''Miss…..?'' He stammered.
''Yeeeeessss Ssspppuuudddd?'' said Miss Spite, drawing out her words as long as possible so she could relish this delicious moment.
''I did do it, but….''
''Oh yes, of course you did it!'' The Witch cackled.
All the other pupils, except Bob sniggered too. There was nothing more pleasurable than seeing someone else get into trouble.
''I left it at home.''
''Litter duty!'' the teacher snapped.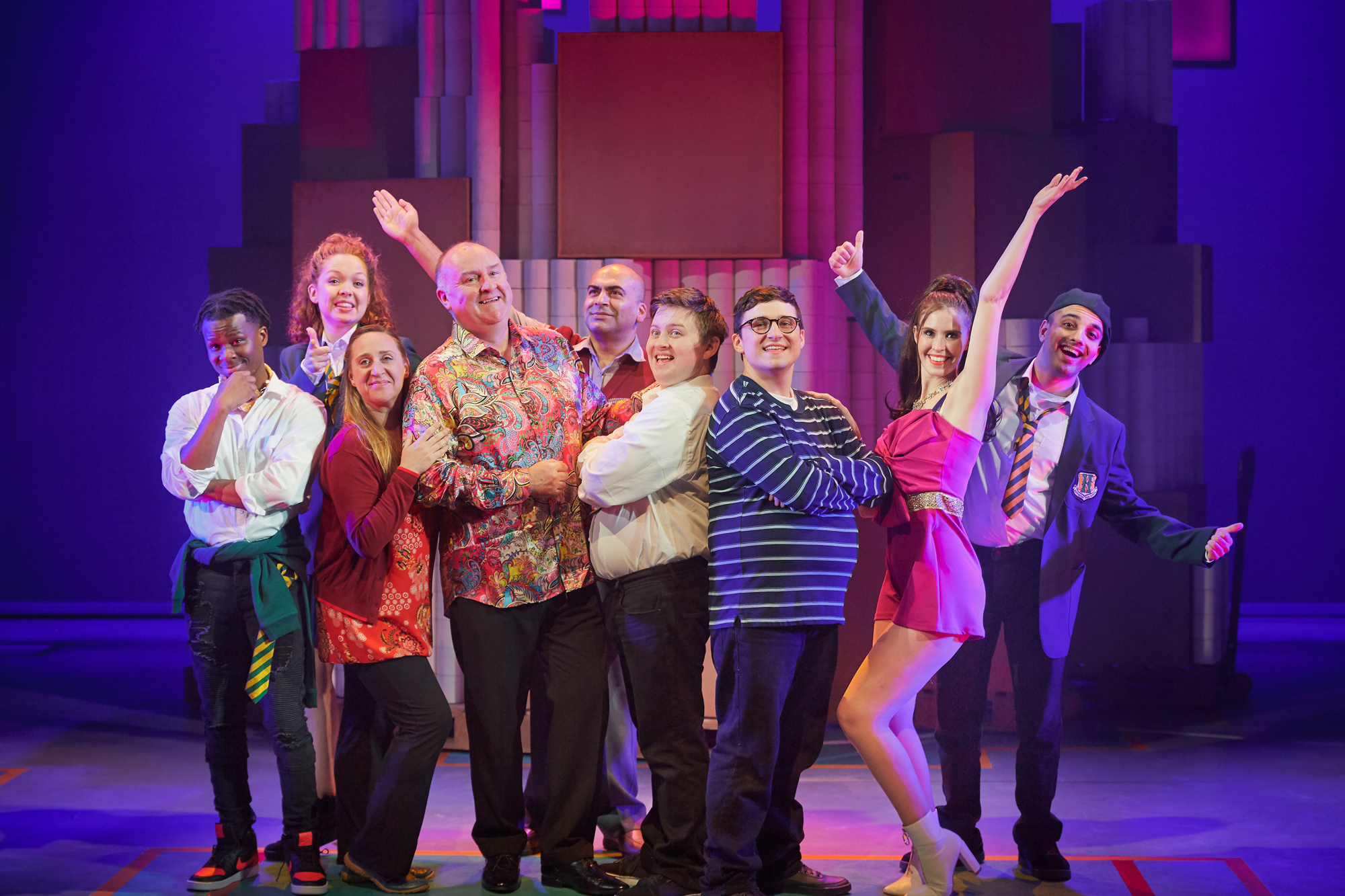 Billionaire Boy - credit Mark Douet

Extract 2 – Script
Spite: Silence in class! Right 5F, we still have the matter of last night's homework.
Everyone reaches for their bag. Joe starts to search frantically.
Joe: (Whispering to Bob). I did it last night; I must have left it at home.
Spite: Is there something the matter?
Joe: No, Miss Spite.
Spite: You've obviously got something you want to say – why don't you tell us all?
Joe: Sorry, Miss, no, Miss.
Spite: Then be quiet. I'm collecting homework. Raise your hands if you've done it.
The children raise their hands.
Spite: I can see a hand missing.
Joe: Miss….?
Spite: Yes, Spudddd ?
Joe: I did it, but…..
Spite: Yes, of course you did it.
Joe: But, er –
Spite: But what? The dog ate it? The house burnt down? It was stolen by aliens?
Joe: Er, no, I just left it at home
Spite: Litter duty!
Frankenstein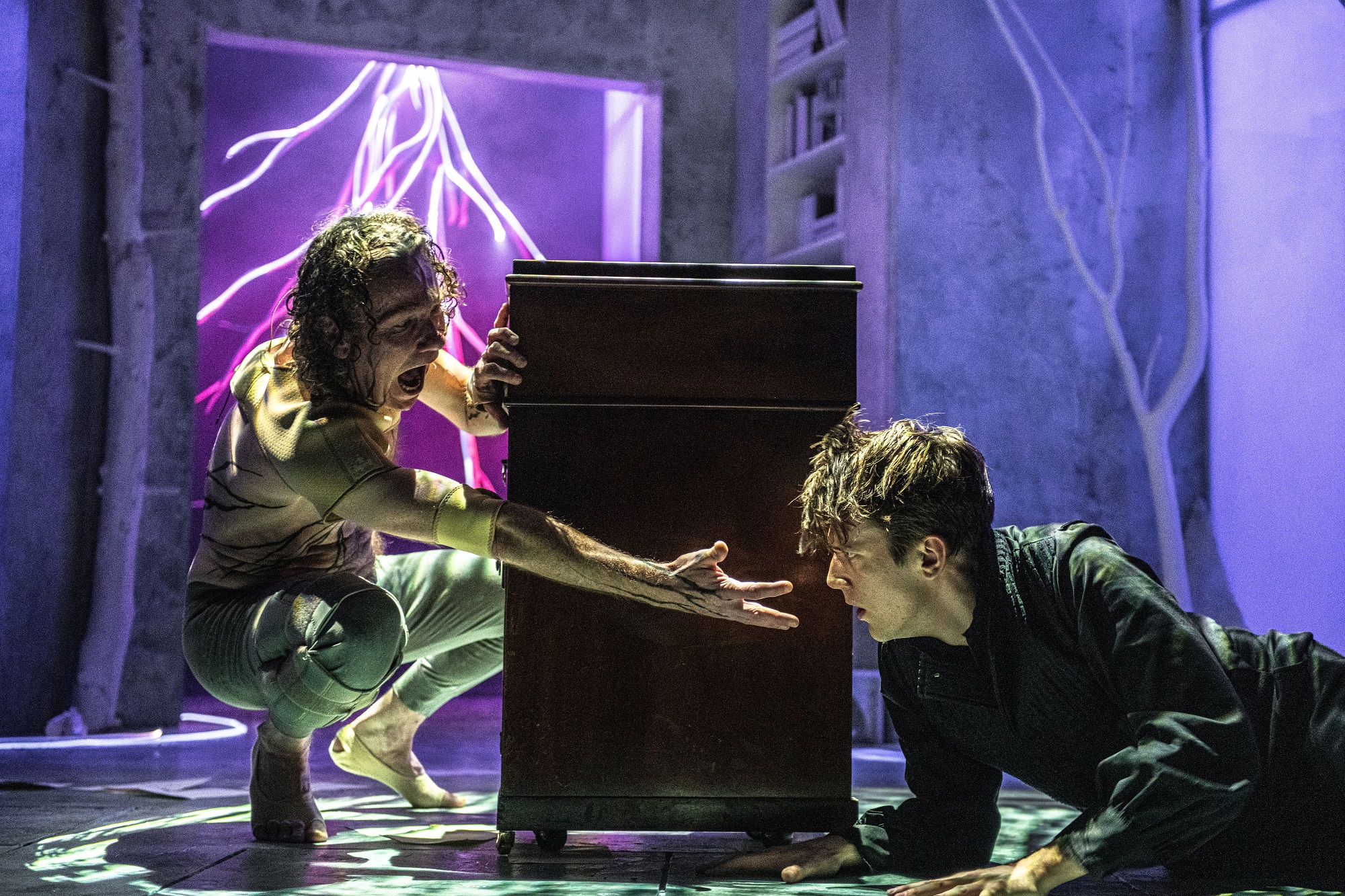 Frankenstein - credit Tommy Ga-Ken Wan
Next, here's playwright Rona Munro talking about her adaptation of Frankenstein, which ran at the Belgrade in Autumn 2019.
What's unique about Rona's adaptation is the role that she gives the author in her play. Rather than simply bringing the characters to life in a straight adaptation of the novel, she has written Mary Shelley herself into the script, directing the action of the story. She also talks about how her version of the monster is different to those you might have seen in other adaptations.
How does Shelley herself feature in the play?
She's a character in it. If I said she was a narrator it would give the impression that it's about storytelling, but it's a much more active role than that. The book is all her voice, when you think about it. I've just put that voice on stage with her as a character, so you see the story but you also see some of the emotional journey she went through to create it.
What was the inspiration behind that idea?
Every version I've seen of Frankenstein becomes about Victor Frankenstein and the Creature so you have these two very iconic male protagonists. It's been done as a metaphor for fathers and sons, and everyone talks about Prometheus and the patriarchal God, Adam the man…
The thing that seems to get completely obliterated is that this came from the mind of an 18-year-old woman and a very intelligent and talented one at that. She went on to become a successful writer and she was probably responsible for preserving and even framing and amending the whole body of her husband's work. She's become completely invisible in the narrative of Frankenstein, and even when she is credited with its creation, it's almost as if she did it organically or spontaneously, as if she didn't know what she was doing and it was just a mad dream.
As a writer, when you look at the book you think, "This is a very solid piece of storytelling by someone who is really skilled in structuring the narrative and putting it all together." That's not to say it isn't without its faults, but nothing is, and when you think it was written by someone who was 18, it's extraordinary.
Can you tease anything about how Frankenstein's monster will be depicted?
What I can tell you is that it won't be what people expect. After James Whale did the films with Boris Karloff in the 1930s, the monster became this kind of sewn-together creature with bolts in his neck. But if you read the description in the book there's no mention of him being sewn together and there's no description for how Frankenstein assembles the monster.
I would say it suggests something much more chemical, almost as if he was boiling corpses down and reassembling the body matter. It's really not clear and equally there's no lightning to animate the monster. Again it suggests a much more chemical process with the implication that maybe electricity was used. Our monster is not going to be sewn together from bits of people, he's not going to have a bolt in his neck and he's not going to be animated through lightning. He'll look utterly terrifying but he won't look like you expect!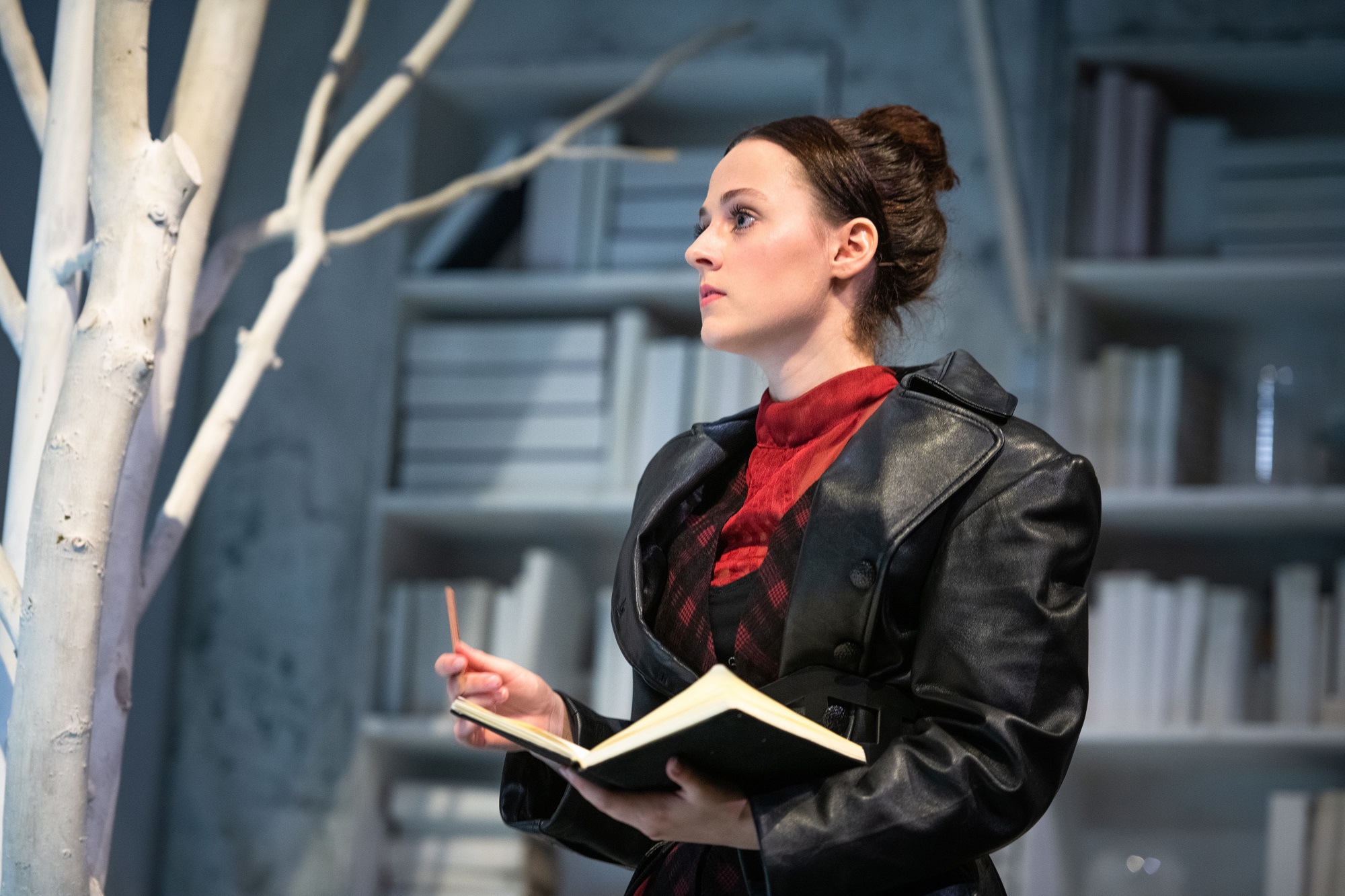 Frankenstein - credit Tommy Ga-Ken Wan
Activity 2
Take a look at this extract from Mary Shelley's Frankenstein and think about how you might adapt if for the stage. Here are a few things to consider:
Setting – Where is the scene set? How might this setting be depicted on stage? What do you think it might look like?
Characters – Who are the characters in this extract? What are they saying? What do they want? How many actors will be needed?
Dialogue – What do the characters say to each other – or to themselves – in the novel? Do you want to include all of this, or are there things you would take out? In the extract below, there is a long speech from the Creature. What parts could you cut out? Perhaps some of what he says could be conveyed in a different way – through movement or through facial expressions, for example? Is there any dialogue you'd like to add for the other characters? Perhaps some of Shelley's descriptive writing might become dialogue.
Stage directions – What does the extract tell us about how the characters move or what else is happening on stage? How might you describe this in your stage directions? Is there any action that you'd like to add to the scene, or take away from it?
Audience – Remember that plays are performed in front of a live audience, so think about their role. Are they watching passively, or do they have a part to play in what is happening on stage? Do any of your actors engage with them? Which character or characters do the audience feel sympathy for?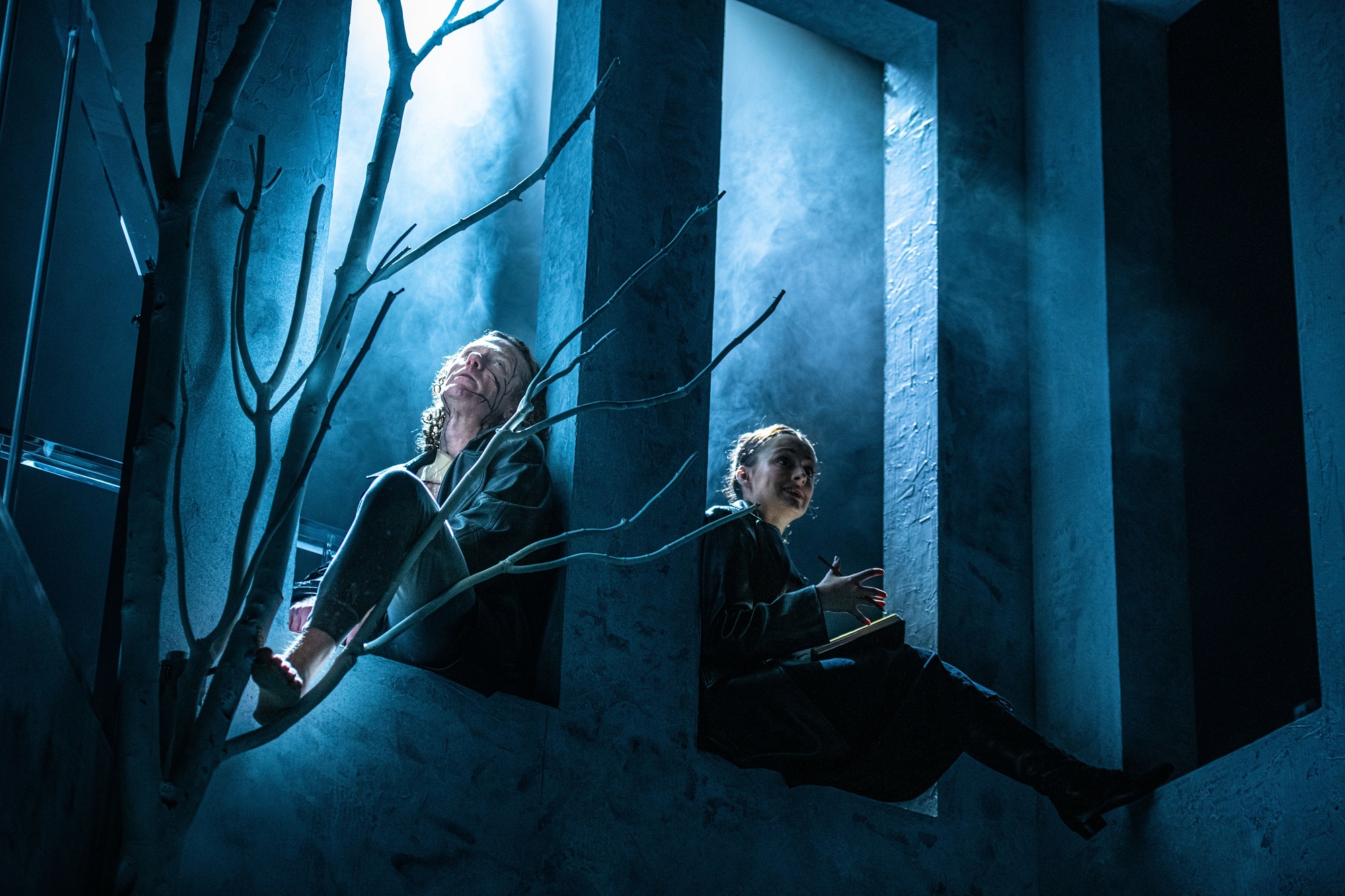 Frankenstein - credit Tommy Ga-Ken Wan

Extract 3
In this extract, which falls right at the very end of the novel, the ship's captain, Robert Walton, is writing one of many letters to his sister, Margaret, about his adventures at sea. Earlier in the story, we learn that Walton's boat has picked up the scientist, Victor Frankenstein, stranded somewhere in the Arctic, and that the two have become friends. 
Frankenstein is heading into the icy north to chase the Creature that he made, after the Creature murdered Frankenstein's new wife, Elizabeth, on their wedding night. Walton has been pressured by his crew to turn back from their journey and head home to England, due to the dangers of the icy water.
September 9th, the ice began to move, and roarings like thunder were heard at a distance as the islands split and cracked in every direction. We were in the most imminent peril, but as we could only remain passive, my chief attention was occupied by my unfortunate guest whose illness increased in such a degree that he was entirely confined to his bed.
The ice cracked behind us and was driven with force towards the north; a breeze sprang from the west, and on the 11th the passage towards the south became perfectly free. When the sailors saw this and that their return to their native country was apparently assured, a shout of tumultuous joy broke from them, loud and long-continued. Frankenstein, who was dozing, awoke and asked the cause of the tumult.
"They shout," I said, "because they will soon return to England."
"Do you, then, really return?"
"Alas! Yes; I cannot withstand their demands. I cannot lead them unwillingly to danger, and I must return."
"Do so, if you will; but I will not. You may give up your purpose, but mine is assigned to me by Heaven, and I dare not. I am weak, but surely the spirits who assist my vengeance will endow me with sufficient strength."
Saying this, he endeavoured to spring from the bed, but the exertion was too great for him; he fell back and fainted.
It was long before he was restored, and I often thought that life was entirely extinct. At length he opened his eyes; he breathed with difficulty and was unable to speak. The surgeon gave him a composing draught and ordered us to leave him undisturbed. In the meantime he told me that my friend had certainly not many hours to live.
His sentence was pronounced, and I could only grieve and be patient. I sat by his bed, watching him; his eyes were closed, and I thought he slept; but presently he called to me in a feeble voice, and bidding me come near, said, "Alas! The strength I relied on is gone; I feel that I shall soon die, and he, my enemy and persecutor, may still be in being. Think not, Walton, that in the last moments of my existence I feel that burning hatred and ardent desire of revenge I once expressed; but I feel myself justified in desiring the death of my adversary. During these last days I have been occupied in examining my past conduct; nor do I find it blamable. In a fit of enthusiastic madness I created a rational creature and was bound towards him to assure, as far as was in my power, his happiness and well-being. This was my duty, but there was another still paramount to that.
"My duties towards the beings of my own species had greater claims to my attention because they included a greater proportion of happiness or misery. Urged by this view, I refused, and I did right in refusing, to create a companion for the first creature. He showed unparalleled malignity and selfishness in evil; he destroyed my friends; he devoted to destruction beings who possessed exquisite sensations, happiness, and wisdom; nor do I know where this thirst for vengeance may end. Miserable himself that he may render no other wretched, he ought to die. The task of his destruction was mine, but I have failed. When actuated by selfish and vicious motives, I asked you to undertake my unfinished work, and I renew this request now, when I am only induced by reason and virtue.
"Yet I cannot ask you to renounce your country and friends to fulfil this task; and now that you are returning to England, you will have little chance of meeting with him. But the consideration of these points, and the well balancing of what you may esteem your duties, I leave to you; my judgment and ideas are already disturbed by the near approach of death. I dare not ask you to do what I think right, for I may still be misled by passion.
"That he should live to be an instrument of mischief disturbs me; in other respects, this hour, when I momentarily expect my release, is the only happy one which I have enjoyed for several years. The forms of the beloved dead flit before me, and I hasten to their arms.
"Farewell, Walton! Seek happiness in tranquillity and avoid ambition, even if it be only the apparently innocent one of distinguishing yourself in science and discoveries. Yet why do I say this? I have myself been blasted in these hopes, yet another may succeed."
His voice became fainter as he spoke, and at length, exhausted by his effort, he sank into silence. About half an hour afterwards he attempted again to speak but was unable; he pressed my hand feebly, and his eyes closed for ever, while the irradiation of a gentle smile passed away from his lips.
Margaret, what comment can I make on the untimely extinction of this glorious spirit? What can I say that will enable you to understand the depth of my sorrow? All that I should express would be inadequate and feeble. My tears flow; my mind is overshadowed by a cloud of disappointment. But I journey towards England, and I may there find consolation.
I am interrupted. What do these sounds portend? It is midnight; the breeze blows fairly, and the watch on deck scarcely stir. Again there is a sound as of a human voice, but hoarser; it comes from the cabin where the remains of Frankenstein still lie. I must arise and examine. Good night, my sister.
Great God! what a scene has just taken place! I am yet dizzy with the remembrance of it. I hardly know whether I shall have the power to detail it; yet the tale which I have recorded would be incomplete without this final and wonderful catastrophe.
I entered the cabin where lay the remains of my ill-fated and admirable friend. Over him hung a form which I cannot find words to describe—gigantic in stature, yet uncouth and distorted in its proportions. As he hung over the coffin, his face was concealed by long locks of ragged hair; but one vast hand was extended, in colour and apparent texture like that of a mummy. When he heard the sound of my approach, he ceased to utter exclamations of grief and horror and sprung towards the window. Never did I behold a vision so horrible as his face, of such loathsome yet appalling hideousness. I shut my eyes involuntarily and endeavoured to recollect what were my duties with regard to this destroyer. I called on him to stay.
He paused, looking on me with wonder, and again turning towards the lifeless form of his creator, he seemed to forget my presence, and every feature and gesture seemed instigated by the wildest rage of some uncontrollable passion.
"That is also my victim!" he exclaimed. "In his murder my crimes are consummated; the miserable series of my being is wound to its close! Oh, Frankenstein! Generous and self-devoted being! What does it avail that I now ask thee to pardon me? I, who irretrievably destroyed thee by destroying all thou lovedst. Alas! He is cold, he cannot answer me."
His voice seemed suffocated, and my first impulses, which had suggested to me the duty of obeying the dying request of my friend in destroying his enemy, were now suspended by a mixture of curiosity and compassion. I approached this tremendous being; I dared not again raise my eyes to his face, there was something so scaring and unearthly in his ugliness. I attempted to speak, but the words died away on my lips. The monster continued to utter wild and incoherent self-reproaches. At length I gathered resolution to address him in a pause of the tempest of his passion.
"Your repentance," I said, "is now superfluous. If you had listened to the voice of conscience and heeded the stings of remorse before you had urged your diabolical vengeance to this extremity, Frankenstein would yet have lived."
"And do you dream?" said the dæmon. "Do you think that I was then dead to agony and remorse? He," he continued, pointing to the corpse, "he suffered not in the consummation of the deed. Oh! Not the ten-thousandth portion of the anguish that was mine during the lingering detail of its execution. A frightful selfishness hurried me on, while my heart was poisoned with remorse. Think you that the groans of Clerval were music to my ears? My heart was fashioned to be susceptible of love and sympathy, and when wrenched by misery to vice and hatred, it did not endure the violence of the change without torture such as you cannot even imagine.
"After the murder of Clerval I returned to Switzerland, heart-broken and overcome. I pitied Frankenstein; my pity amounted to horror; I abhorred myself. But when I discovered that he, the author at once of my existence and of its unspeakable torments, dared to hope for happiness, that while he accumulated wretchedness and despair upon me he sought his own enjoyment in feelings and passions from the indulgence of which I was for ever barred, then impotent envy and bitter indignation filled me with an insatiable thirst for vengeance.
"I recollected my threat and resolved that it should be accomplished. I knew that I was preparing for myself a deadly torture, but I was the slave, not the master, of an impulse which I detested yet could not disobey. Yet when she died! Nay, then I was not miserable. I had cast off all feeling, subdued all anguish, to riot in the excess of my despair. Evil thenceforth became my good. Urged thus far, I had no choice but to adapt my nature to an element which I had willingly chosen. The completion of my demoniacal design became an insatiable passion. And now it is ended; there is my last victim!"
I was at first touched by the expressions of his misery; yet, when I called to mind what Frankenstein had said of his powers of eloquence and persuasion, and when I again cast my eyes on the lifeless form of my friend, indignation was rekindled within me.
"Wretch!" I said. "It is well that you come here to whine over the desolation that you have made. You throw a torch into a pile of buildings, and when they are consumed, you sit among the ruins and lament the fall. Hypocritical fiend! If he whom you mourn still lived, still would he be the object, again would he become the prey, of your accursed vengeance. It is not pity that you feel; you lament only because the victim of your malignity is withdrawn from your power."
"Oh, it is not thus—not thus," interrupted the being. "Yet such must be the impression conveyed to you by what appears to be the purport of my actions. Yet I seek not a fellow feeling in my misery. No sympathy may I ever find. When I first sought it, it was the love of virtue, the feelings of happiness and affection with which my whole being overflowed, that I wished to be participated. But now that virtue has become to me a shadow, and that happiness and affection are turned into bitter and loathing despair, in what should I seek for sympathy?
"I am content to suffer alone while my sufferings shall endure; when I die, I am well satisfied that abhorrence and opprobrium should load my memory. Once my fancy was soothed with dreams of virtue, of fame, and of enjoyment. Once I falsely hoped to meet with beings who, pardoning my outward form, would love me for the excellent qualities which I was capable of unfolding. I was nourished with high thoughts of honour and devotion. But now crime has degraded me beneath the meanest animal. No guilt, no mischief, no malignity, no misery, can be found comparable to mine. When I run over the frightful catalogue of my sins, I cannot believe that I am the same creature whose thoughts were once filled with sublime and transcendent visions of the beauty and the majesty of goodness. But it is even so; the fallen angel becomes a malignant devil. Yet even that enemy of God and man had friends and associates in his desolation; I am alone.
"You, who call Frankenstein your friend, seem to have a knowledge of my crimes and his misfortunes. But in the detail which he gave you of them he could not sum up the hours and months of misery which I endured wasting in impotent passions. For while I destroyed his hopes, I did not satisfy my own desires. They were for ever ardent and craving; still I desired love and fellowship, and I was still spurned. Was there no injustice in this? Am I to be thought the only criminal, when all humankind sinned against me? Why do you not hate Felix, who drove his friend from his door with contumely? Why do you not execrate the rustic who sought to destroy the saviour of his child? Nay, these are virtuous and immaculate beings! I, the miserable and the abandoned, am an abortion, to be spurned at, and kicked, and trampled on. Even now my blood boils at the recollection of this injustice.
"But it is true that I am a wretch. I have murdered the lovely and the helpless; I have strangled the innocent as they slept and grasped to death his throat who never injured me or any other living thing. I have devoted my creator, the select specimen of all that is worthy of love and admiration among men, to misery; I have pursued him even to that irremediable ruin.
"There he lies, white and cold in death. You hate me, but your abhorrence cannot equal that with which I regard myself. I look on the hands which executed the deed; I think on the heart in which the imagination of it was conceived and long for the moment when these hands will meet my eyes, when that imagination will haunt my thoughts no more.
"Fear not that I shall be the instrument of future mischief. My work is nearly complete. Neither yours nor any man's death is needed to consummate the series of my being and accomplish that which must be done, but it requires my own. Do not think that I shall be slow to perform this sacrifice. I shall quit your vessel on the ice raft which brought me thither and shall seek the most northern extremity of the globe; I shall collect my funeral pile and consume to ashes this miserable frame, that its remains may afford no light to any curious and unhallowed wretch who would create such another as I have been.
"I shall die. I shall no longer feel the agonies which now consume me or be the prey of feelings unsatisfied, yet unquenched. He is dead who called me into being; and when I shall be no more, the very remembrance of us both will speedily vanish. I shall no longer see the sun or stars or feel the winds play on my cheeks. Light, feeling, and sense will pass away; and in this condition must I find my happiness.
"Some years ago, when the images which this world affords first opened upon me, when I felt the cheering warmth of summer and heard the rustling of the leaves and the warbling of the birds, and these were all to me, I should have wept to die; now it is my only consolation. Polluted by crimes and torn by the bitterest remorse, where can I find rest but in death?
"Farewell! I leave you, and in you the last of humankind whom these eyes will ever behold. Farewell, Frankenstein! If thou wert yet alive and yet cherished a desire of revenge against me, it would be better satiated in my life than in my destruction. But it was not so; thou didst seek my extinction, that I might not cause greater wretchedness; and if yet, in some mode unknown to me, thou hadst not ceased to think and feel, thou wouldst not desire against me a vengeance greater than that which I feel. Blasted as thou wert, my agony was still superior to thine, for the bitter sting of remorse will not cease to rankle in my wounds until death shall close them for ever.
"But soon," he cried with sad and solemn enthusiasm, "I shall die, and what I now feel be no longer felt. Soon these burning miseries will be extinct. I shall ascend my funeral pile triumphantly and exult in the agony of the torturing flames. The light of that conflagration will fade away; my ashes will be swept into the sea by the winds. My spirit will sleep in peace, or if it thinks, it will not surely think thus. Farewell."
He sprang from the cabin-window as he said this, upon the ice raft which lay close to the vessel. He was soon borne away by the waves and lost in darkness and distance.