Read about how the soundscape for A Monster Calls was created, and have a go at recording your own
To celebrate the news that Sally Cookson's A Monster Calls will be streamed online by The Old Vic in June, we've been taking a look back at some of the resources we used alongside the show's run in Coventry earlier this year.
In today's Weducation activity, you'll find out what a soundscape is, and have a go at creating your own using the objects you can find around you. You'll also get to read about how composer Benji Bower created the soundscape for A Monster Calls.
What is a soundscape?
A soundscape is the use of sounds which are combined to create mood and atmosphere, often for a play or film. Often, the sounds used might be natural sounds that you would expect to find in a particular location. For example, a churchyard at night might include the sounds of:
Owls hooting
Wind through the trees, including a yew tree
Clocks chiming the hour
Rain
Animals searching for food
If you want to create a spooky churchyard, then you could include:
A creaking gate
Ravens calling to each other
Crunching gravel
Although music is sometimes used, there is often no melody, although certain, less realistic sounds might be added to the mix to help create a particular feeling or mood.
To create the soundscape for A Monster Calls, for example, composer Benji Bower recorded the sound of a real tree and then used synthesizers and computer software to manipulate it. Read what he had to say about his process below.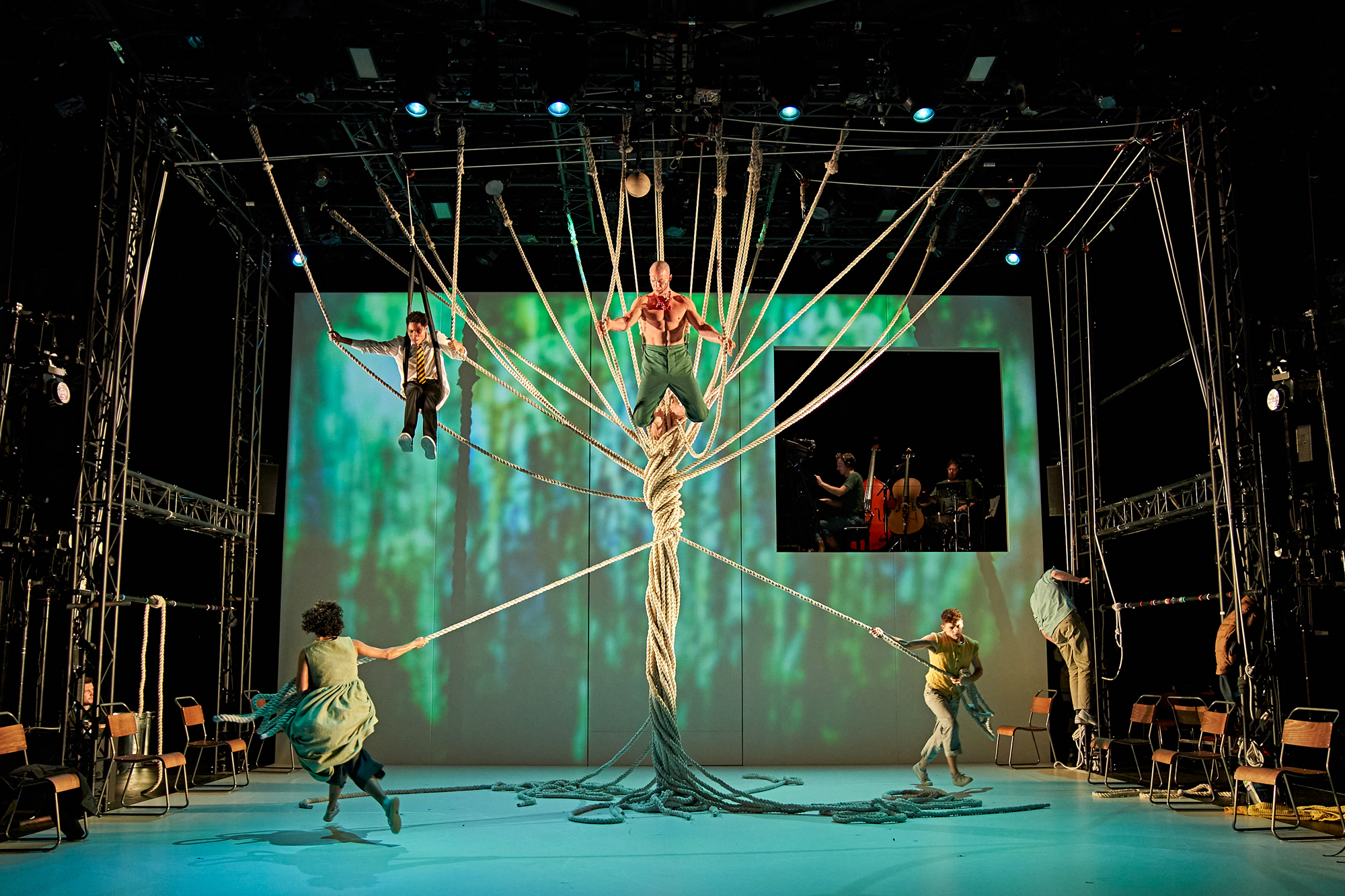 A Monster Calls production photo - credit Manuel Harlan
Benji Bower on creating the soundscape for A Monster Calls
My starting point for this show was the feeling I got from the Patrick Ness' book. When reading it for the first time it affected me deeply and still does whenever I read it. A lot of people nowadays have been affected by cancer and illness in families and so it was easy to tap into Conor's heartache.
For me, whenever I'm writing music, it has to come from deep within. It has to mean something to me first and then hopefully that will come through to others. I think a lot in images: the book is very filmic and so it provided many of those images for me. The illustrations were so wonderfully dark, too.
Sally, the director, was very clear from the start that we should not sentimentalise the mother's illness. With music it is so easy to spoon feed people specific emotions so it was good to know what we needed to avoid to fit with Sally's vision and intention.
To develop the sounds that will be important for the creation of mood and atmosphere, I actually went to record a yew tree in deepest West Wales. In fact it is one of the only bleeding yews in Europe (it bleeds red sap). I have taken some of the sounds and processed/morphed/effected/distorted the sound to make a palate of sound to compose with. Therefore, many of the sounds you hear in the show originally come from the yew, but it won't sound like the sound of a tree as you might expect it to.
We also set up the idea of the nightmare being very dark and fractured, unrecognisable and backwards. This has led to a sound design that I have been creating with lots of glitches and jumps to accentuate the nightmare feeling.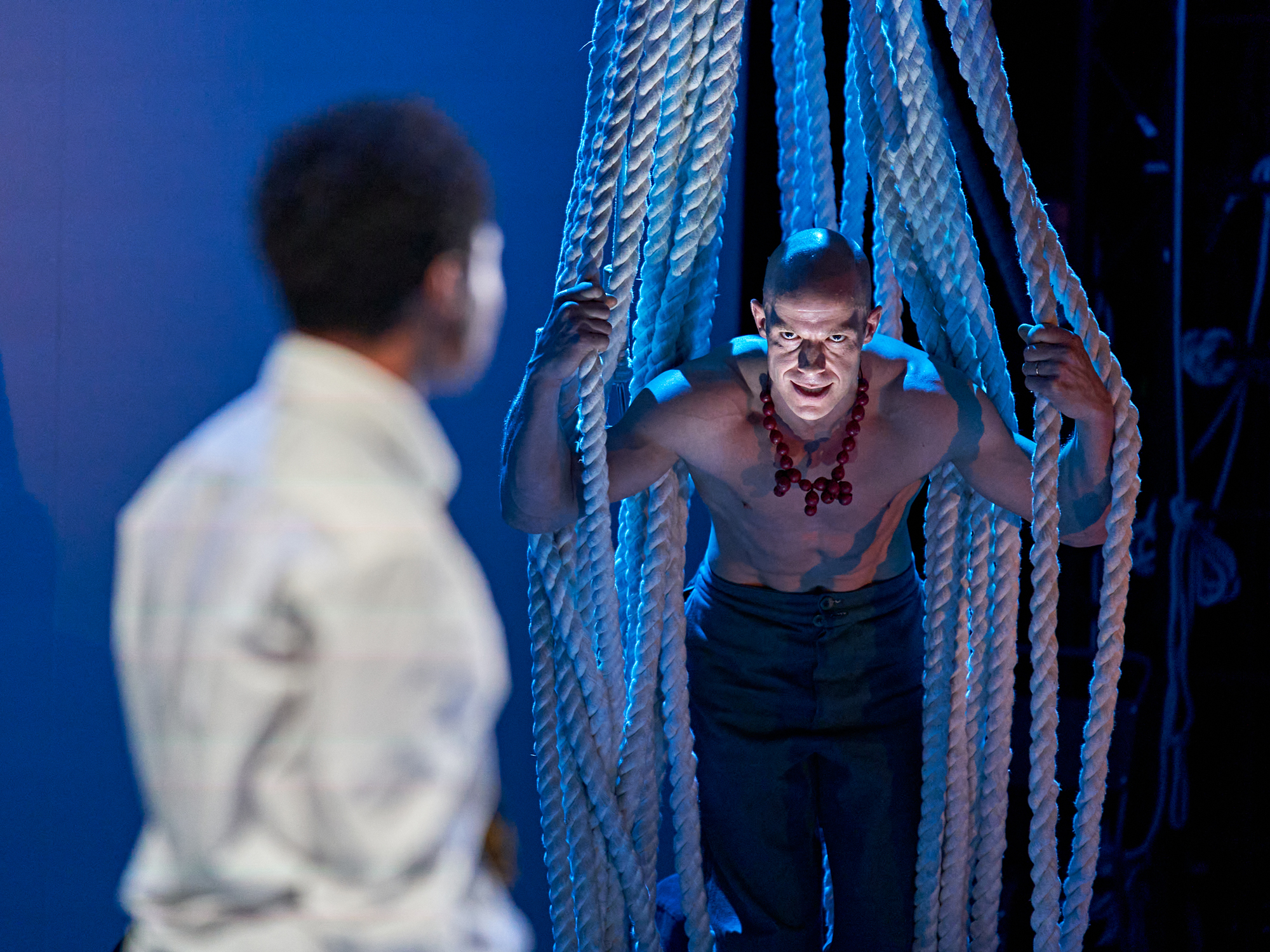 A Monster Calls production photo - credit Manuel Harlan
Much of my palette of sounds comes from the tree. On this show we are using a lot of synths, subs and electronic instruments. Something one could try when creating sound for a production is to record some natural sounds and try and find the music within them. If you have access to a computer or FX processor, try and change the sound to something unrecognisable.
The advice I'd give to students who are creating their own sound ideas for an adaptation or original piece of theatre is that being in contact with your director is really important; as is having an understanding of the feeling that comes from the book or whatever you are using as a stimulus. I think if you can really connect with the story this will help the music and sound process.
Working out the boundaries of your sound world before you start is also important. For example, what's the style and genre? Does it need to be associated with a particular place? For example, is it Latin music? This might help create your instrumentation. Depending on whether it is a recorded soundtrack or live performance, how many musicians do you have to work with? All of these factors will limit or enhance your compositions and sounds.
In rehearsal, I sometimes simply observe what is being staged, and other times I will workshop and experiment with ideas with the performers. I then go away and write or design the sound — collaborating with directors, designers and actors utilises all of these approaches.
I normally get the word from Sally what our next show will be and that excites me into writing music which I then play in the rehearsal room and we see where our musical world will sit. Sometimes I will improvise and then go away and write, or sometimes I write on the spot. It can be very scary at times but sometimes the best things come from improvising and playing around.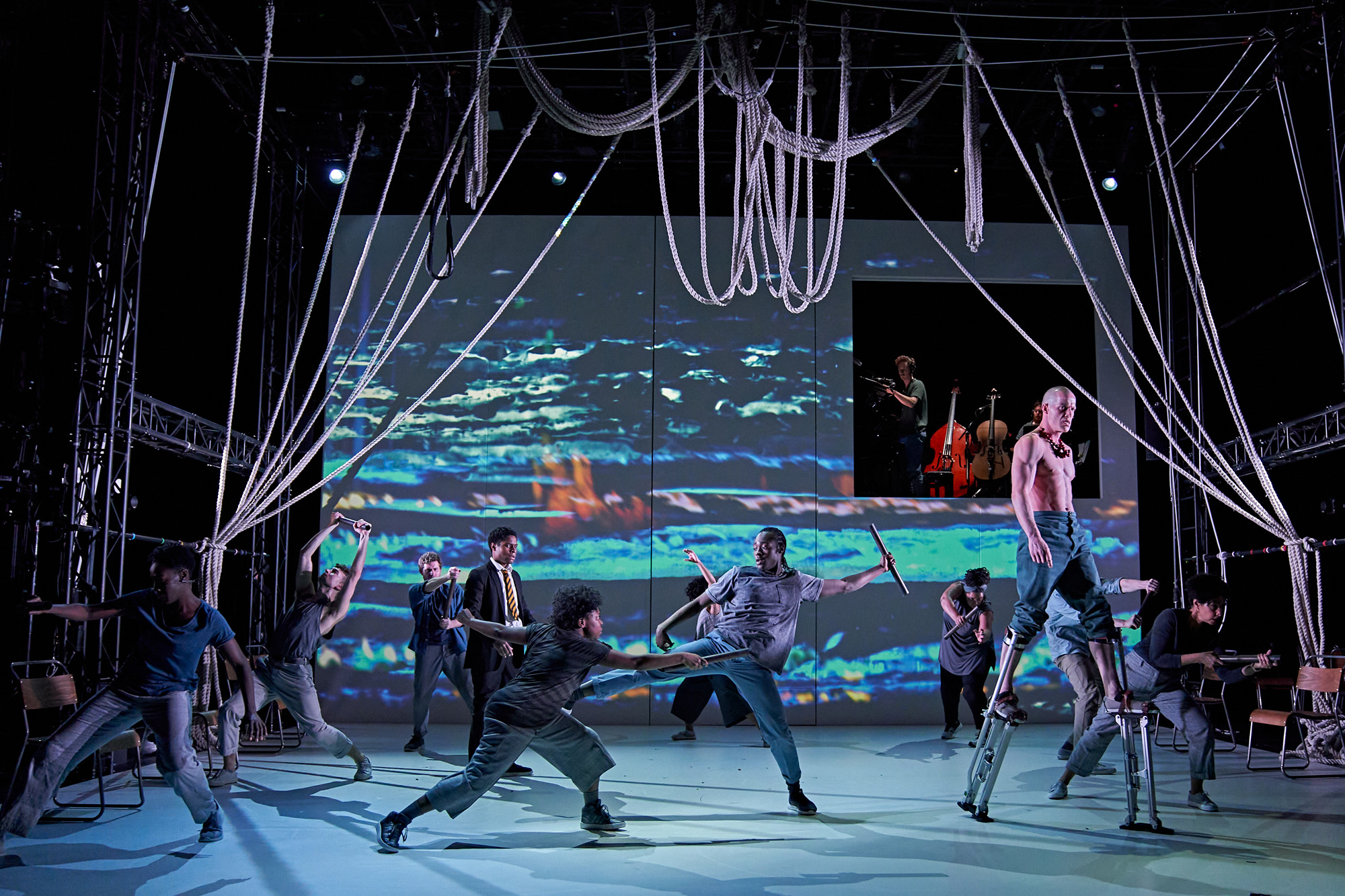 A Monster Calls production photo - credit Manuel Harlan
Over to you
How can you use your body, the floor, your voice (but not words) and the texture of your clothes to create a soundscape?
You could also have a go at creating something using found objects. These could be things in the room around you like pots and pans and jars. Or you could take a look around the garden for things like sticks, pebbles or pinecones.
See if you can have a go at creating a soundscape to fit with the extract from A Monster Calls below. This scene was written by writer-in-the room Adam Peck, and shows Conor experiencing his first nightmare at the start of the play.
Thud. Conor falls on hands and feet on forest floor.
Atmosphere of place: whistling wind, cliff edge,
CONOR: 'Mum'. 'You have to get out of here.'
Heavy feeling (1).
Dragging
CONOR:  'Mum, you have to run.'
Dragging. Atmosphere.
MUM: 'I'm fine, darling. There's nothing to worry about.'
Increased tension. Heavy noise. Dragging?
CONOR: 'Mum, run! Please run!'
Rumbling, booming — sound of the dark monster down below; a thing bigger than the world climbing the cliff-face.
MUM: 'But darling, there's-' 'No!'
Heavy feeling.
CONOR: 'Mum.'