Get creative with crazy costumes designed to stand out from the crowd
Mention the word "pantomime" and one of the first things that springs to mind for most people is the image of a Dame – the comedy female character played by a man which is a staple feature of every British panto.
Often a mother, step-mother or even step-sister to one of the other key characters, the Dame is always flamboyant and funny. She's usually on the side of the goodies, but can be one of the baddies in some stories. For example, in Sleeping Beauty and Puss in Boots, the Dame was the mother to our Comic character, and part of the hero team. In Cinderella, meanwhile, there are two or even three Dames – the two Ugly Sisters, and sometimes their mother, too.
Along with the comic, the Dame does a lot of interacting with the audience. In our pantomimes at the Belgrade, we always have a "slosh scene", where the Dame, and usually the Comic, ask a man from the audience to come up on stage with them, and everyone ends up getting a bit messy!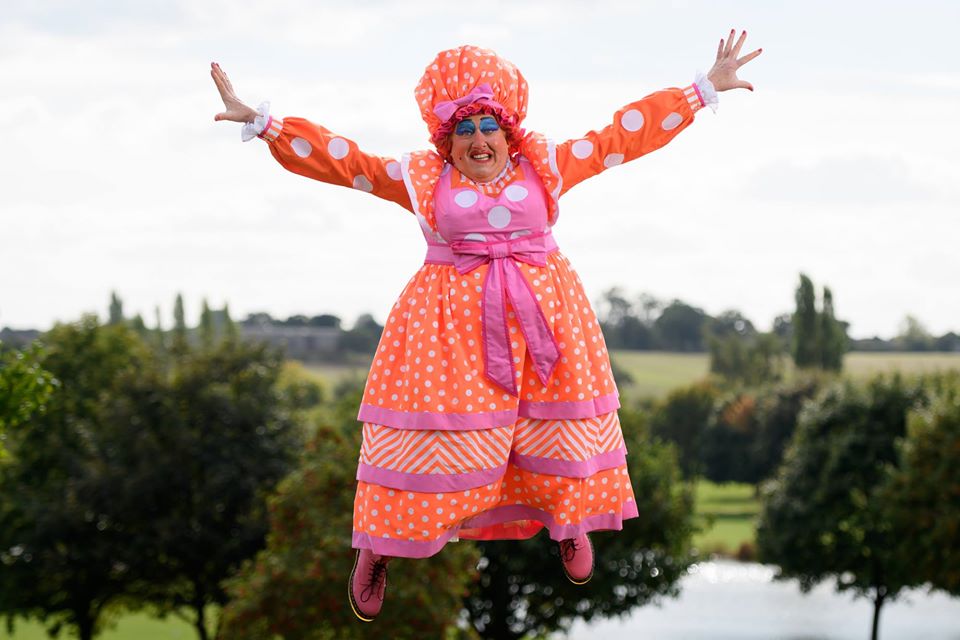 Iain Lauchlan as Dame Nanny McWheeze (Sleeping Beauty, 2018/19) - costume credit Terry Parsons, photo credit Joe Bailey
What does a Dame wear?
Aside from being played by a man and chatting to the audience, what Dames are best known for are their crazy costumes, wigs and make-up. The Dame will usually have lots of different costumes throughout the show, often appearing in a different outfit in each scene, and ending the show with a truly spectacular, sparkling "walk-down" dress.
Dame outfits are designed to be funny and outlandish, often taking inspiration from a particular theme or object. For example, in our production of Sleeping Beauty (2018-19), Dame Nanny McWheeze wore an outfit shaped like a set of bagpipes.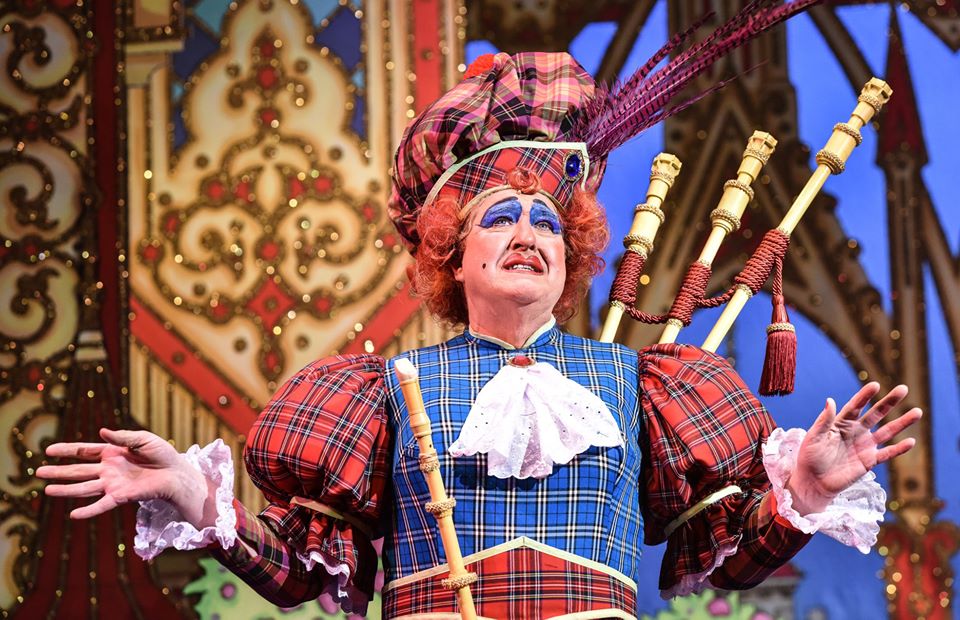 Iain Lauchlan as Dame Nanny McWheeze (Sleeping Beauty, 2018/19) - costume credit Terry Parsons, photo credit Robert Day
Meanwhile, in Puss in Boots (2019-20), Dame Matilda Pudding, wore an outfit shaped like a Christmas pudding. Not only did this help to make the show feel festive, it also reflected her name and her role as the wife of the local miller and baker, Crusty Pudding.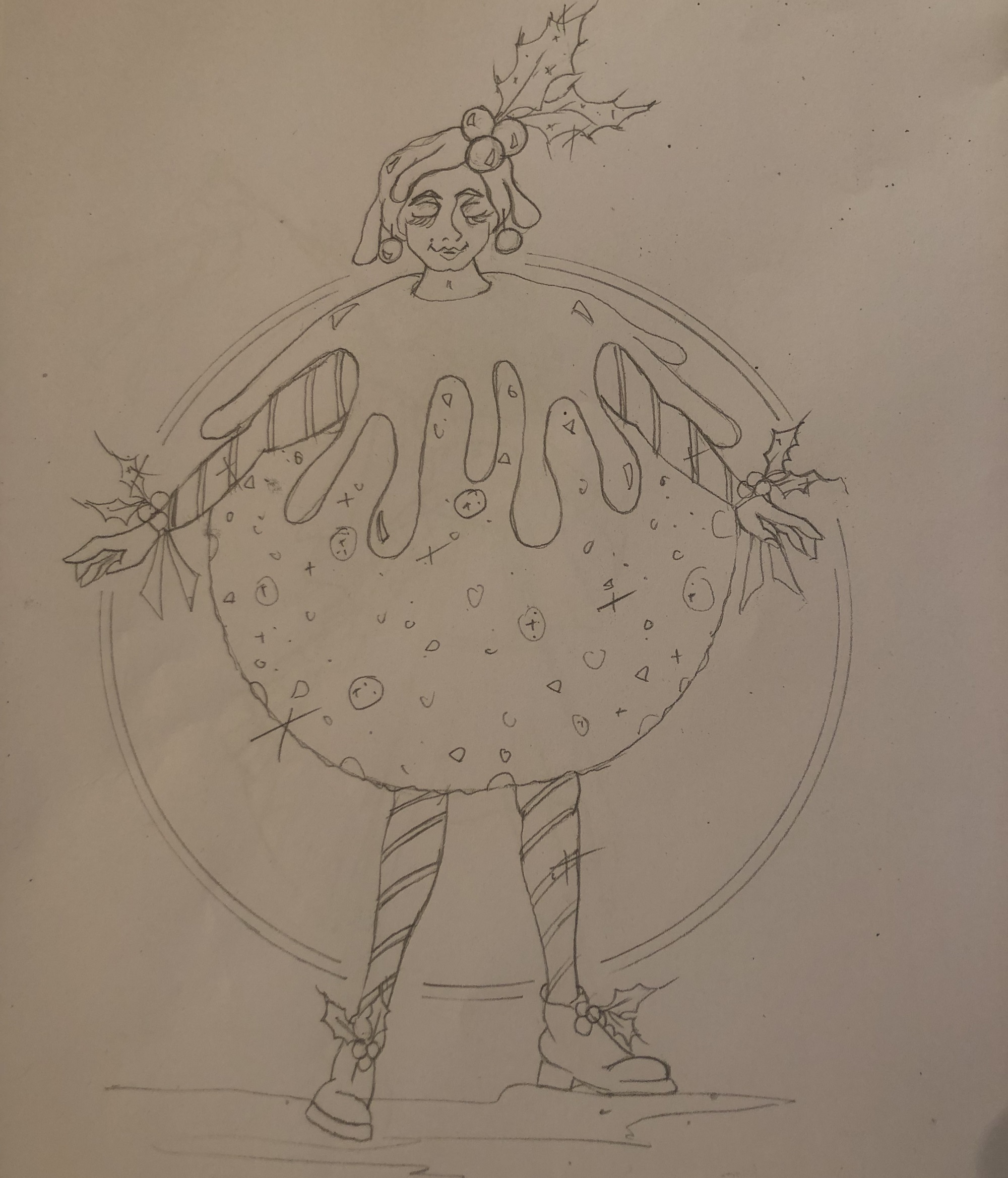 Matilda Pudding costume design (Puss in Boots, 2019/20) - design credit Mark Walters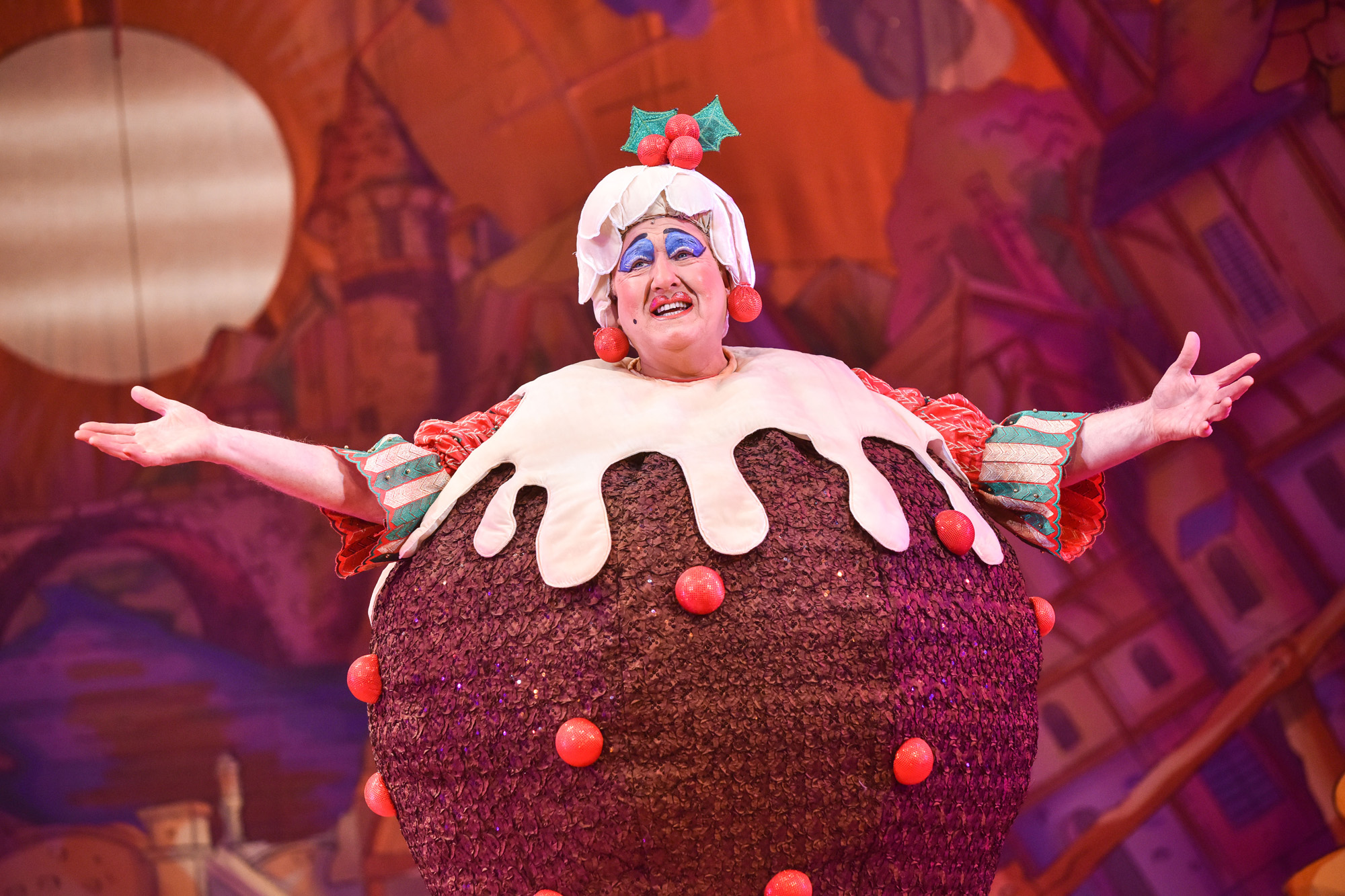 Iain Lauchlan as Matilda Pudding (Puss in Boots, 2019/20) - costume credit Mark Walters, photo credit Robert Day
Other Dame outfits in recent shows have included a chicken costume and an amazing walk-down dress based on a fountain!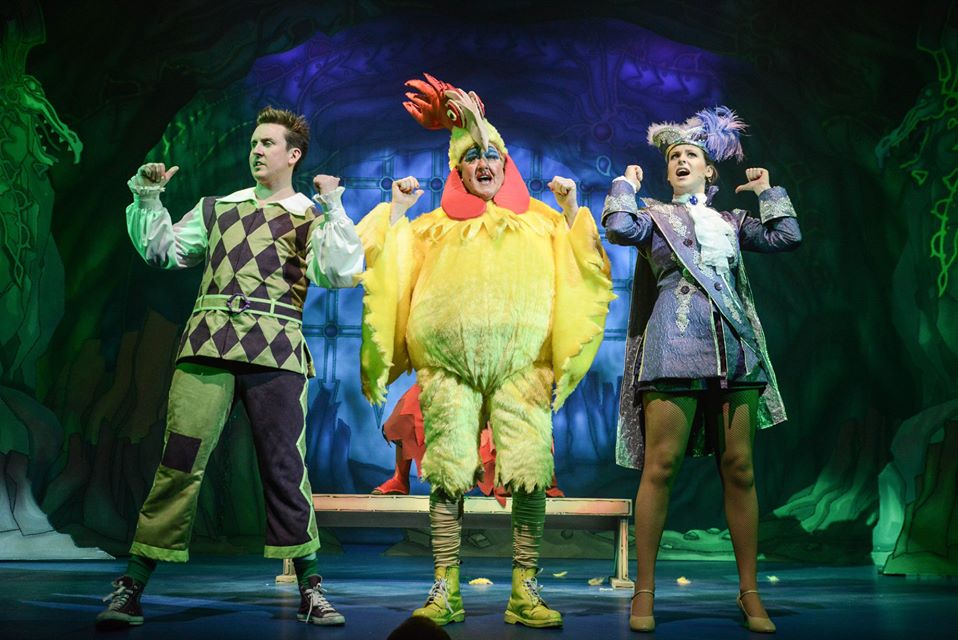 Craig Hollingsworth, Iain Lauchlan and Joanna Thorne (Sleeping Beauty, 2018/19) - costumes credit Terry Parsons, photo credit Robert Day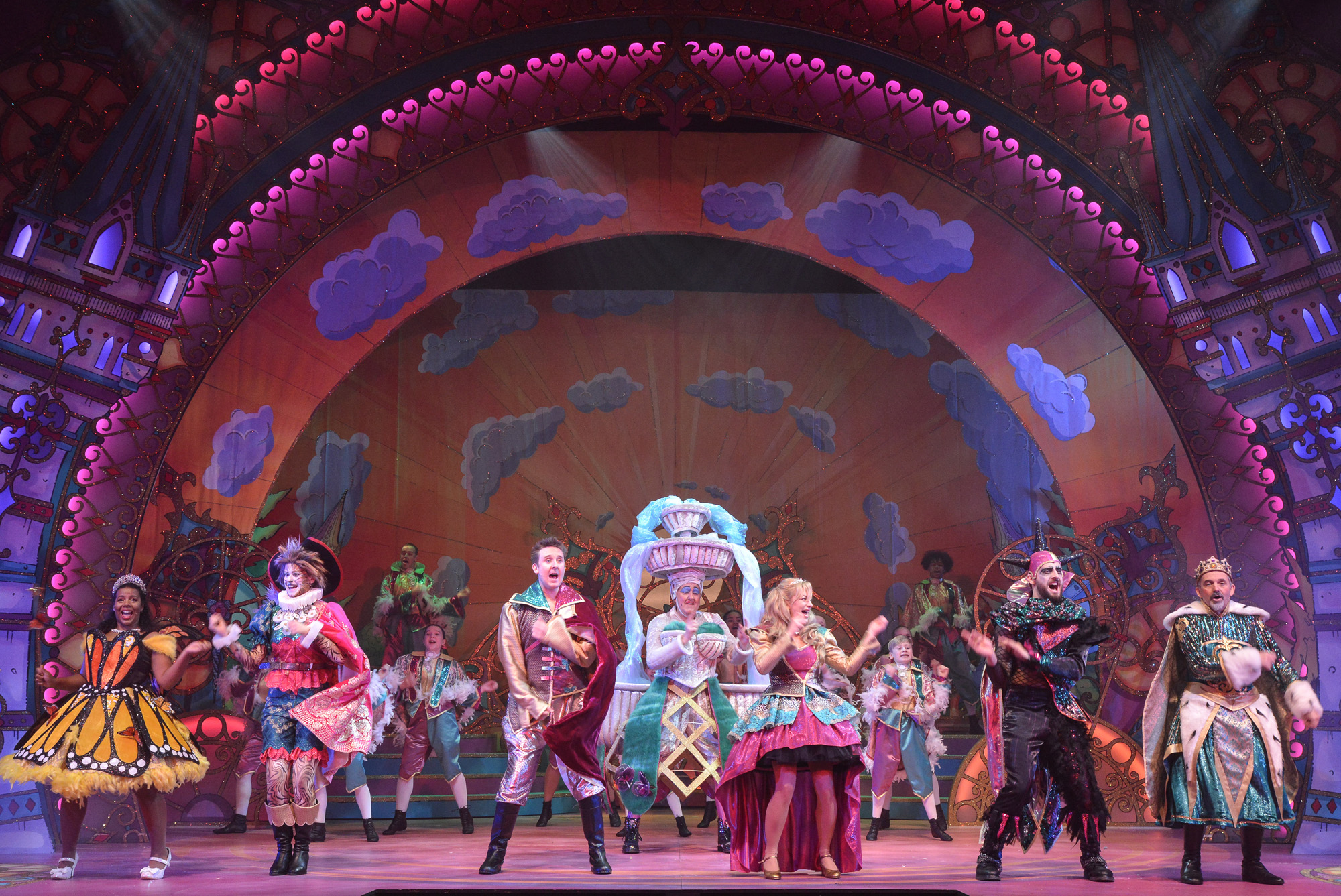 The cast of Puss in Boots (2019/20) in the final "walk-down" scene - costumes credit Mark Walters, photo credit Robert Day
These costumes are often a challenge for the Wardrobe team to make – as our Head of Wardrobe, Margaret, will attest, it can take a lot of patience, hard work and creativity to get a complicated costume right!
But they're also a lot of fun to design, because the possibilities are pretty much endless. Where costumes in most productions are designed to work together to create a particular setting for the story, Dame costumes are actually designed to make the character stand out from everyone else in the show – so they can be as imaginative and as unusual as you like!
Over to You
Now it's your turn. Imagine you've been tasked with designing the costumes for a Christmas panto, and you're starting work on the Dame's outfits.
In a real scenario, the designs would be discussed with the director, who will have chosen the story for the pantomime and will have written a short treatment outlining some of their ideas about how they will stage it. In the case of our pantomimes at the Belgrade, it's handy that our regular director also happens to be our Dame, so he'll help with some ideas about what his character will be wearing.
Without a director to talk to, however, here are a few things you might want to think about when looking for inspiration for your own costumes:
Which panto story will your costume be appearing in? Some of the most popular stories including Cinderella, Sleeping Beauty, Jack and the Beanstalk, Snow White, Dick Whittington, Peter Pan, Beauty and the Beast, Aladdin, Puss in Boots and Mother Goose.
What are some of the things that the story is famous for? For example, you might take inspiration from the pumpkin coach in Cinderella, or the journey to London in Dick Whittington.
Could it be based on something festive, such as a Christmas tree, a present, a turkey or a pudding?
Can you draw on anything that's popular at the moment? For example, in our production of Cinderella (2017-18), our Comic character wore a Pikachu onesie, inspired by the craze for Pokémon Go.
Don't forget about the headpiece! What sort of wig or hat might go with the clothes you've designed?
What might they be made out of? What materials will Wardrobe need to create this costume? You can think outside the box with this – rubber ducks, feathers, plastic balls – it needn't just be made of fabric.
What about a costume for a slosh scene? If an outfit is going to get messy all the time, how might you make it easy to clean and care for?
When you've had a go at designing your costumes, we'd love to see them, so please do share your pictures with us on Facebook, Twitter or Instagram.