This week's activity explains how artwork for theatre posters is created
The first time you're made aware of a new theatre production is often when you see the artwork for the show online or on a poster, but have you ever thought about how these are made?
Creating artwork for new shows is a really important job that the Belgrade's Communications team work on in partnership with freelance designers, and is overseen by the Communications Manager.
As we all know, first impressions last, so it's really important to consider the options carefully and make sure that the results are eye-catching, and will appeal to the right audiences. So how do you get started?
Analysing the show
Before they can start spreading the word about a show and encouraging people to come and see it, the Communications team need to make sure that they fully understand what it's about.
Developing a marketing plan – which includes creating the show artwork – usually begins with reading the script and talking to the director about the themes, style and tone of the show. These are things that should in some way be reflected in the artwork, so that people who see the poster or digital image will immediately get an idea of what they might expect from it – or at least be interested enough to want to find out more!
Another thing to discuss is who the target audience might be. Is the show aimed at children or families? Is it something that will appeal to teenagers and young adults? Is it something that schools might be interested in? Perhaps the show is a new production of a well-known play that regular theatre-goers will recognise?
Once there's a clearer picture of what the show is about, what the production will be like and who it might be aimed at, it's time to start thinking about the best way to communicate that to audiences. The Communications team will try to identify the most exciting and appealing elements of the show, as well as looking out for anything that might need more explanation, or even things that might put people off.
This will feed into their brief to the designer, as well as the rest of their marketing plan.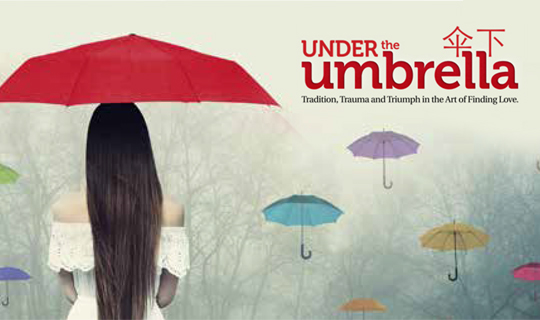 Under the Umbrella artwork with title treatment Design Penguin
Creating a design brief
A design brief is a summary of all of the information the designer needs to create the artwork, ensuring that it reflects the show and appeals to the target audience.
Some of the things that a design brief might include are:
Background to the project: When the show is happening, who it should appeal to, whether it's a brand new story or a classic people will know. We'd also include the description of the show we're intending to use on the website or on leaflets.
Tone/feel: This is where we might suggest a specific style of artwork, a colour palette, or whether we have any suggestions for the type of design such as using photography or illustration. We might also describe the mood or feeling it should create – it might create a sense of intrigue, perhaps, or it might be something vibrant and uplifting
Title Treatment: This is how we refer to the way the show's title is presented within the artwork. Sometimes it's a simple font but for other shows it might be main focus of the artwork – think of how the titles appear on the posters for shows like Oliver! or Cats.
Uses: This is where we outline all the different ways we'll need to use the artwork. When you think of the artwork for a show, you might have a picture of how it looks on a flyer or poster in your mind, but this is just one of many ways it will appear. Every show needs artwork that can be adapted into different shapes and sizes – this could be anything from an Instagram post to a bus side advert. At the Belgrade, we also often use elements of the artwork to create animated teaser trailers for our shows. Another consideration is how it will fit in with our branding – where will we put our logo and the logos of our funders, for example?
Creating the designs
Once the designer has all of the information from the Communications team, they'll set about creating a few ideas that can be presented to them and to the director.
Following further discussions with the director, the team will choose the design that they feel will suit their needs best. There may also be a few changes to make here and there before the design is ready to go.
Over to you!
Imagine you've been tasked with putting together a design brief for a show. It might be one of your own favourite productions, or it could be one of the shows from our upcoming Autumn Season.
Think about:
What is the tone or mood of the show? Is it a comedy? Is it energetic and physical? Is it a sad story or a gritty drama? What words would you use to describe it?
Who is it for? Is the target audience children or adults? What sort of people do you think would enjoy the show? What kinds of things are those people interested in? Could you use those things as inspiration?
How do you think the artwork will be used? This will depend on who the target audience is. Do you think the audience for the show are internet-savvy Instagram users, or are they more likely to notice a poster in the theatre or by the side of a road?
What are the themes of the show? Are there any images you can find on the internet that you could use as inspiration?
When you're finished, perhaps you might want to have a go at creating your own artwork. You could draw it by hand, or if you'd prefer, try putting something together on a computer.
If you're not sure how to get started, here's a look at a project we did with some graphic design students ahead of our production of Under the Umbrella. We tasked them with coming up with their own artwork for the show based on the same brief we gave to our designer. But as you can see from the pictures below, there are lots of different ways of responding to the same starting point!
The show was about a young Chinese woman studying for a PhD in Coventry, who finds herself under pressure to get married from her mother and grandmother at home. The show took its title from China's marriage markets, where some parents gather to seek out potential partners for their grown-up children, often pinning dating profiles to brightly coloured umbrellas.
"For Under the Umbrella there was an image that the Director had in mind so we worked with that to come up with a few different ideas. We create a mood board of ideas - images, colours and fonts. Then we work up some designs and expand on them – referring back to the research and the information we have gathered as we go. You should have tons of ideas, but it is best to keep working on them and refining them before showing the client. If there is something you don't like – take it out. Client needs to see a range of ideas – but too many and it can weaken the strong ones. And my best advice is immerse yourself and enjoy it!"