Arts Gym member Gill Yardley reflects on her experiences with the Belgrade Theatre
It seemed to jump out at me, the poster in the foyer of the Belgrade Theatre. As if neon lit, it was inviting.
Arts Gym taster

Free for over 55s
Well, that included me, and I soon discovered that 70 was the new 40, as a very exciting and fulfilling part of my life began. It is fair to say theatre, films and other kinds of performances have always fascinated me, even somehow seemed to nourish me.
Drama has always appealed, ever since I was at school. However, for me, the opportunity had never really come along before. I write a bit and this seemed to be an extension of that creative side of me that gave me a lot of pleasure.
I loved acting at school, and remember playing the part of the Innkeeper in the Nativity play. I had wanted to be Mother Mary but Gloria Mapp got the part because she had a doll and a blue dress.
All that was expected from me was five words, "No room at the inn." Dad joked that I would not forget my lines. Sadly, when my turn came,- nothing. My head was blank. I guess it was nerves.
I'm nothing if not a tryer, though. At first, the Belgrade sessions were a bit scary: everyone seemed to be so good, to know what they were doing, and I was awestruck as people quickly reacted to instructions. We did a lot of walking round with different postures and adding the odd noises and feelings.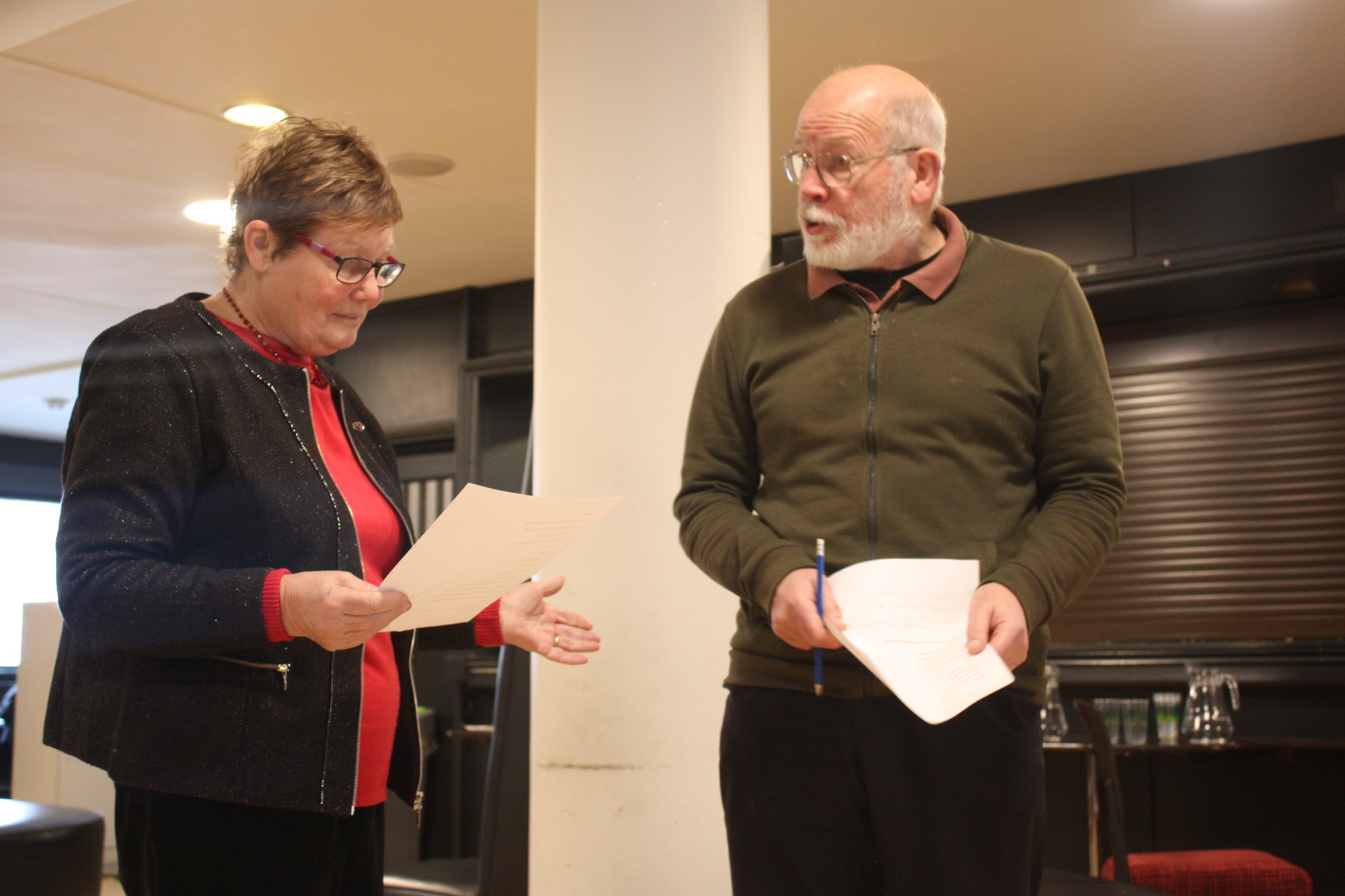 Gill rehearsing in the Belgrade's Burbidge Room - credit Heather Kincaid
I was taken back to being five years old. Miss Butler was carrying a black box into the junior hall. It turned out to be a record player with a shiny black record inside. The stylus was silver and the needle had to be changed before being turned on to the record.
We did 'musical movement' to the scratchy record player.  As chickens in a farmyard, we had to cluck and scratch to 'Who will feed my yellow chickens, eight, nine, ten'. The opportunity to cluck the loudest overcame me. Suddenly I was that chicken.
At first in the Arts Gym sessions, I found it harder than it looked. But as people passed a hat around and imagined a character or object, this, together with the opportunity to throw myself on the floor, or fling my arms about, soon became very enjoyable. Suddenly, it was as if someone had thrown a switch. The light shone in my eyes. The world was alive with possibilities.
I was used to my family constantly telling me I was not like the rest of them. Suddenly I was enjoying time with people just like me, who also seemed to 'get' me.  The two hours at the Arts Gym flew by, I was wishing my life away till the following Monday when we would be back there again.
People of my own age and older were out there whooping it up and I wanted as much of it as I could possibly get. Kid and sweet shop certainly described it.
It was like all my fantasies in one, as I was given permission to do whatever came into my head, and foolishly at first I did just that. Soon however I realised it was great fun, but I had to be disciplined too.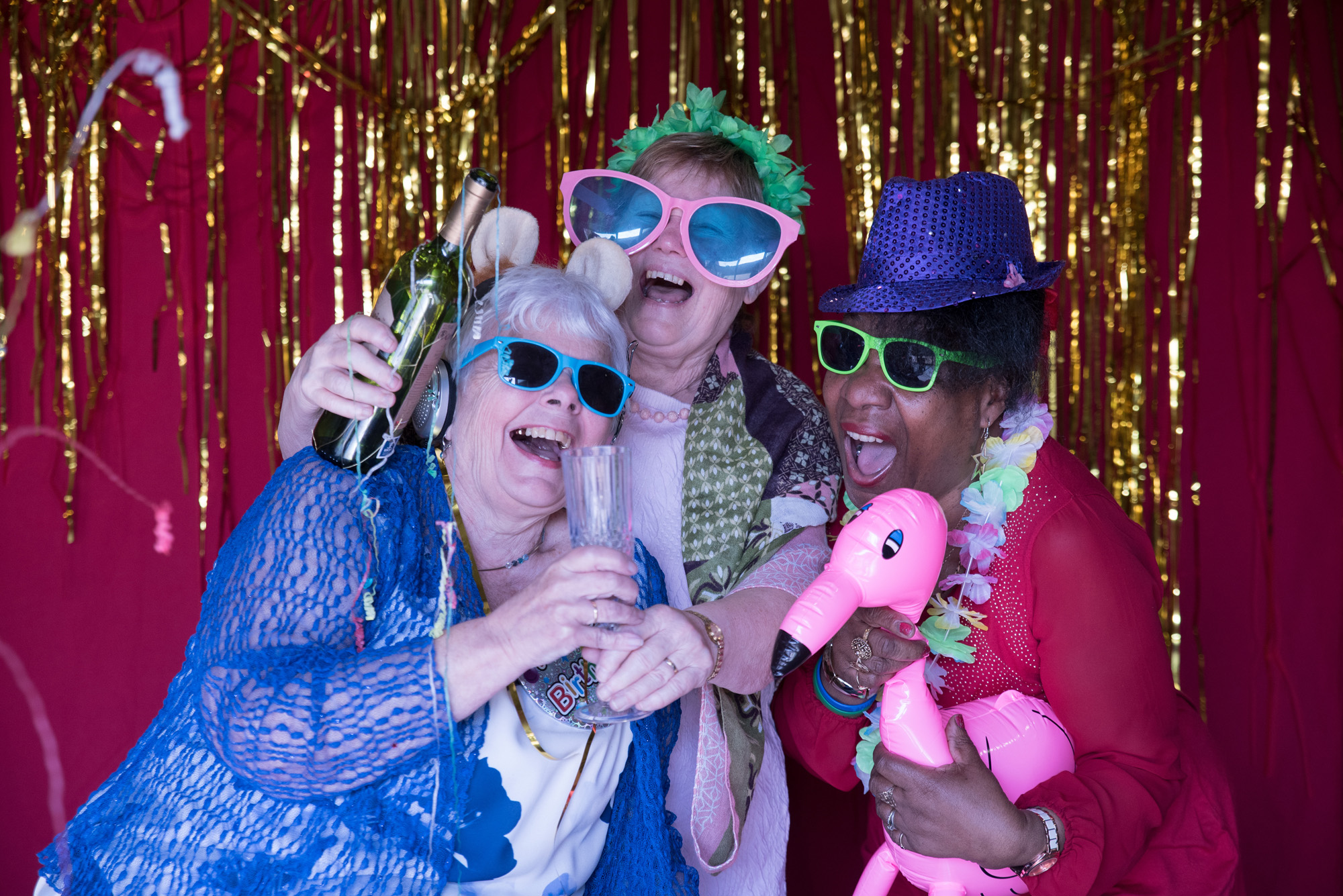 Gill and her fellow participants pose with props for a photo shoot - credit Nicola Young
Oh, the excitement when we were taken onto the main stage will stay in my memory for ever! It was magic! I looked out at the empty theatre and marvelled at seeing it from the other side. And the fairytale world of the dressing room – I was in heaven! There really are lights around the mirrors!
It was very much unwitting learning as I swallowed every bit of information given to me. Think you know how to breathe? Wrong, this is how to do it.
Luckily for me, I have a clear voice and a deaf husband I shout to (not at) a lot, in the nicest way, so the instructions to make my voice to carry a long way were natural and refreshing too.
Laughter – I've never laughed so much in my life! My companions were like me, and very accepting of my efforts. I certainly was of theirs. They were a great bunch of people. To my joy, the opportunity to write was also there, as well as being able to put ideas forward.
We were able to sample every skill we might need for a production – the marks on the floor, the set scenes, where to be when. I can tell you it was far more intensive than 'No room at the inn' had been.
There were costumes, and an opportunity to try them on with a little fashion parade and a lot of giggles when we were all dressed up.
During tech rehearsals, we learned where the sound would come, and who should be doing what, why, and exactly when. It seemed boring to me at first but I soon learned that you'd best pay attention as you could be caught off-guard. Moving about on the stage, actors always make it look so easy, but in truth, it is very skilled.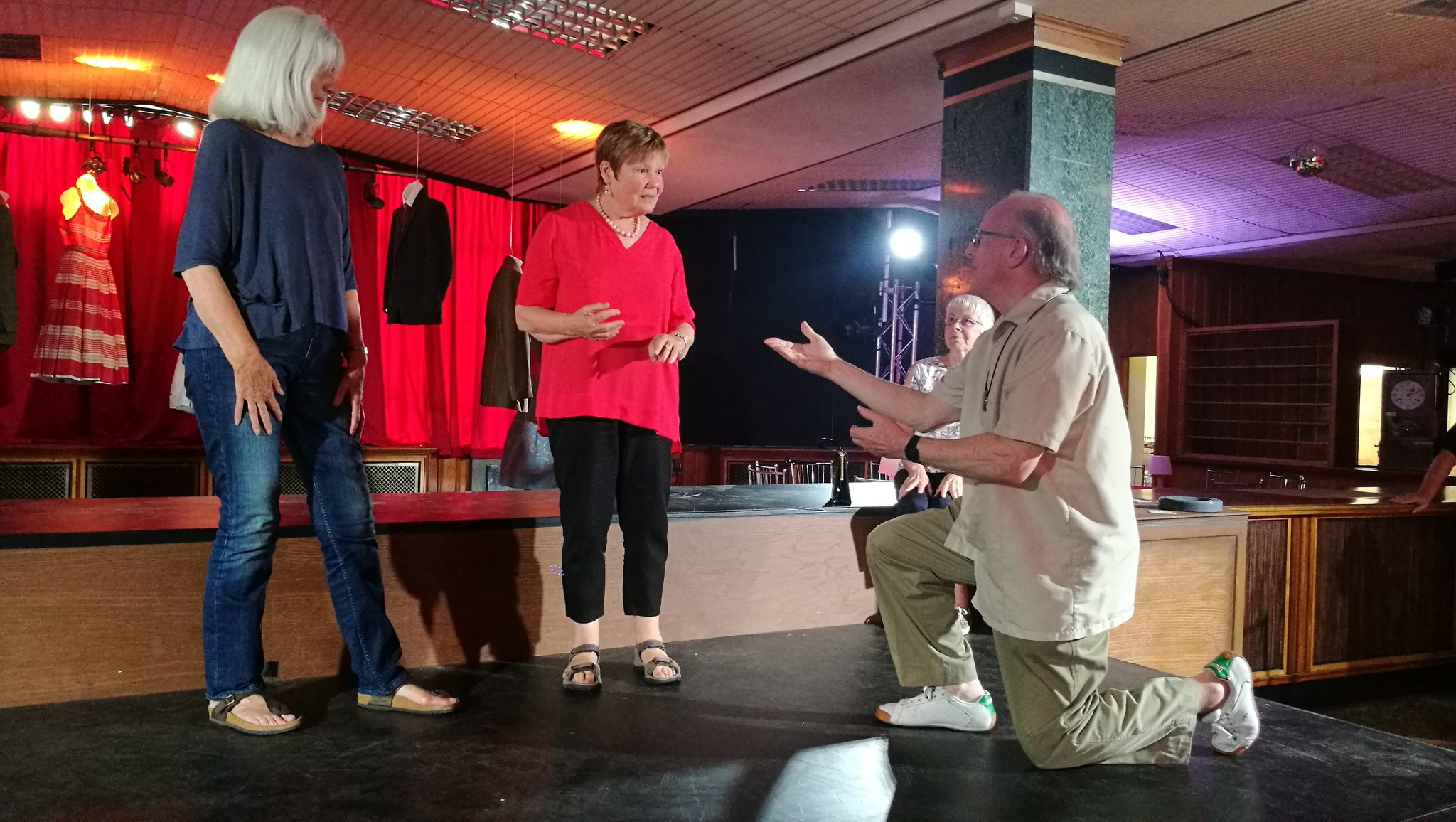 Gill in rehearsals for City Final at the Coventry Evening Telegraph building
Then magically, we found out we were going to be in a real play together. It was a 'site-specific' play set in the old Coventry Evening Telegraph offices opposite the Belgrade. The building was empty and had been offered to the Belgrade to stage several plays going on under one roof. It was an ambitious project.
As a Coventry kid, the Telegraph offices had played a part in my life. It was where you went to place advertisements, write out family notices, hatch, batch, and despatch. It was good to see it again, and be behind the doors in there.
Our play was set in the Locarno, a 1960s dance hall. The set was fabulous, and the 1950s design of the foyer where we performed really added to the whole thing. There was even a glitter ball! My part was to accept a proposal from someone who had been turned down three times previously earlier in the play.
To my surprise I wasn't a bit nervous, and only forgot my lines once. I hope nobody was counting! I loved it. Bring on the next act please. I found it easy to interact with the audience too. Heady stuff.
The 'company' was kind, supportive, and we were all in it together. I floated home after each performance and twittered on about how wonderful it all was, darling!
I have learned so much. I didn't really realise how much at the time. For example:
How to make an empty dress dance
How to feel confident in speaking out about my ideas
How to have a go
How to be part of a whole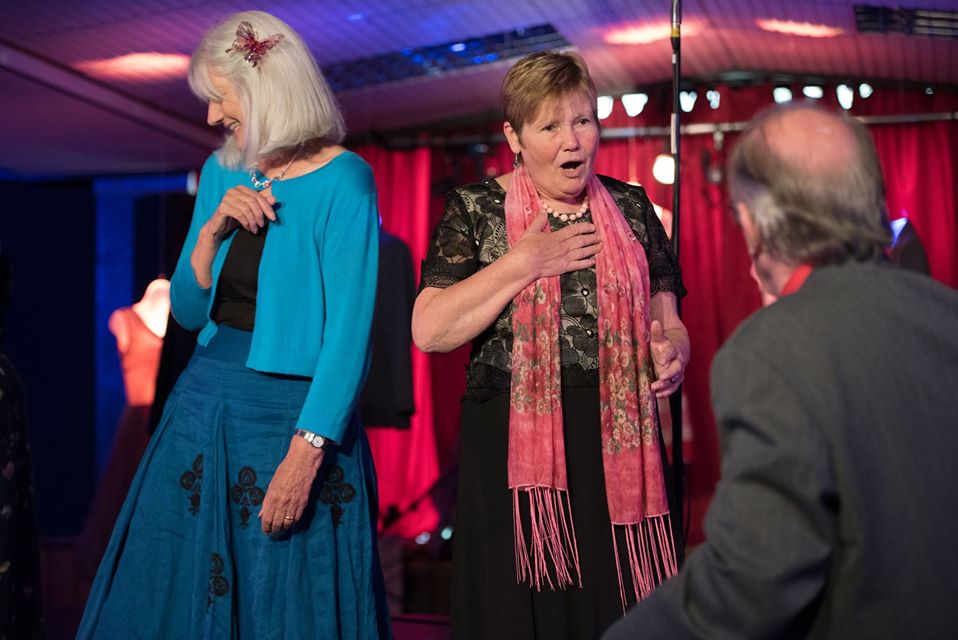 The proposal scene in City Final - credit Nicola Young
There were a lot of games in-between rehearsals, to help sharpen up our reactions. My co-ordination has never been good. I still have not quite mastered left and right, so it's not my best point. But the practising helped, and I got a bit better each time. Plus, I'm good at other things, so it didn't bother me greatly.
Unstoppable now, I went on to be in another more ambitious, professional play, and learned such a lot from that too. Mostly though, I found out about myself, gained some like-minded friends, and the belief that you can live your dream if you are determined.
I was invited to audition for the Elders Company, to perform in a new play called Behind the Net Curtain, something I had not done before. It was to be performed in B2 and people would be paying to see it. To my amazement, I was successful.
I was given the part of Sue, someone who was reduced to using food banks because of the sanctions put on her benefits. Sue had spirit and a sense of humour though, and did not let people put her down if it could be helped.
We had a wonderful producer, wardrobe mistress and stage manager and everyone gelled together. The right clothes were found for the characters, and we had to live at the Belgrade for a month rehearsing – or at least it seemed like it, anyway!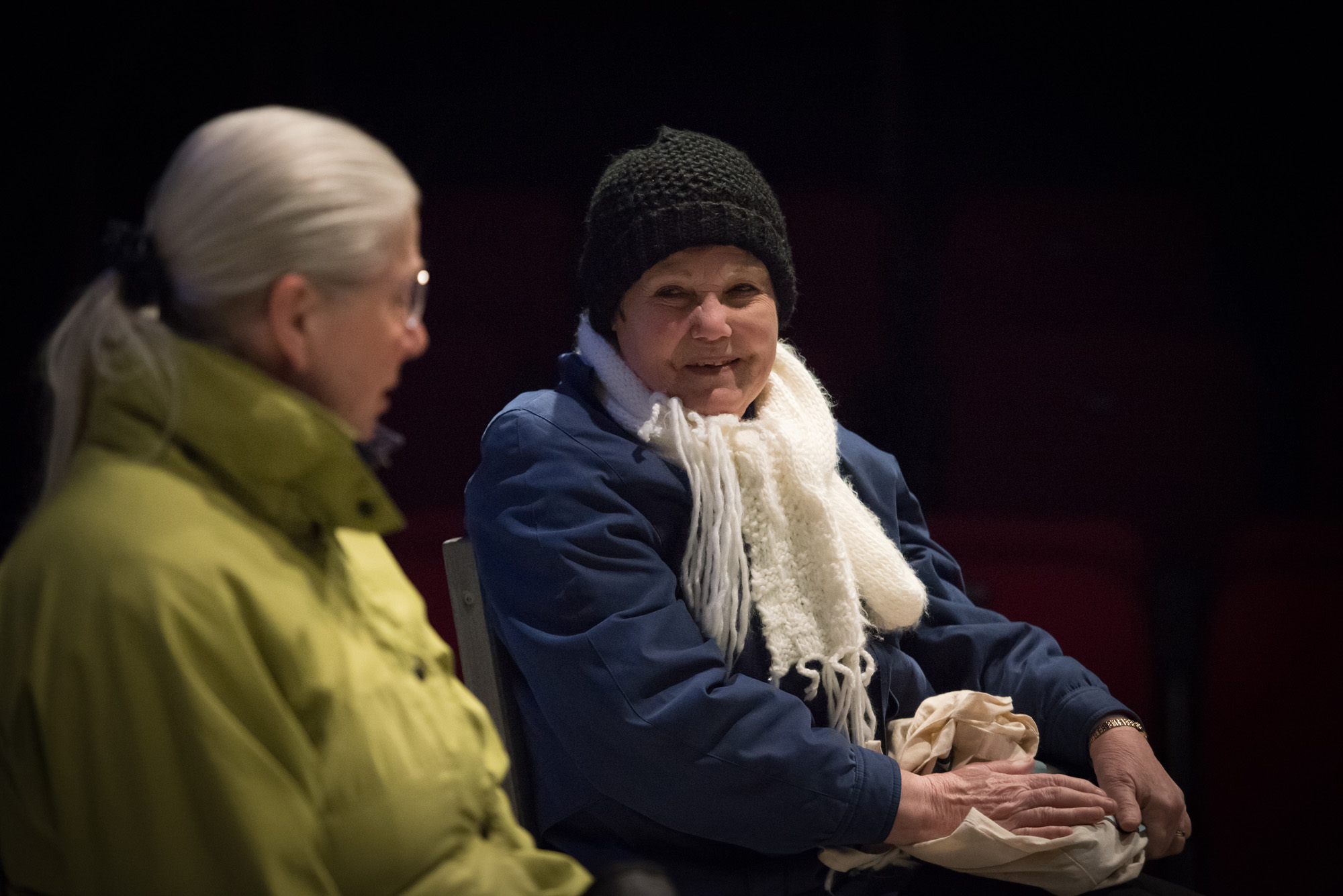 Gill performing in Behind the Net Curtain at the Belgrade Theatre - credit Nicola Young
Our portraits were on the wall of the upstairs bar, pictures on flyers, credits in the programme. Whoever would have thought it? It was incredible. I knew I'd been lucky with my part as I could become that character, totally understanding her. Oh and I also had to die on stage, for the good of the play.
Unbelievably, people still remember my part, and will sometimes say, "BINGO" to me, which was one of my lines in the show.
The Elders Company helped me to get stronger in the areas where I needed improve, barely acknowledging my weaknesses existed. The Belgrade has done such a wonderful job of giving older people opportunities that stretch them. It is invaluable and I know we were lucky to have been given the pleasure of adding to our skills in a wonderfully inventive way.
If you want a challenge and a way to build up your confidence, have a go. Fame might just be the spur for you. Dare to dream the dream. Look out for the posters!
The Belgrade's Arts Gymnasium groups for over 50s are part of a wide-ranging programme of community engagement work which the Belgrade delivers for free. As a registered charity (number 219163), we rely on the support of funders, donors and audiences to offer vital and often life-changing opportunities to local people from all walks of life.
The current lockdown has placed the theatre under tremendous financial strain, and now, more than ever, any contribution to support our work can make a huge difference. If you would like to donate or find out more about why we are a charity, please visit our Support Us page.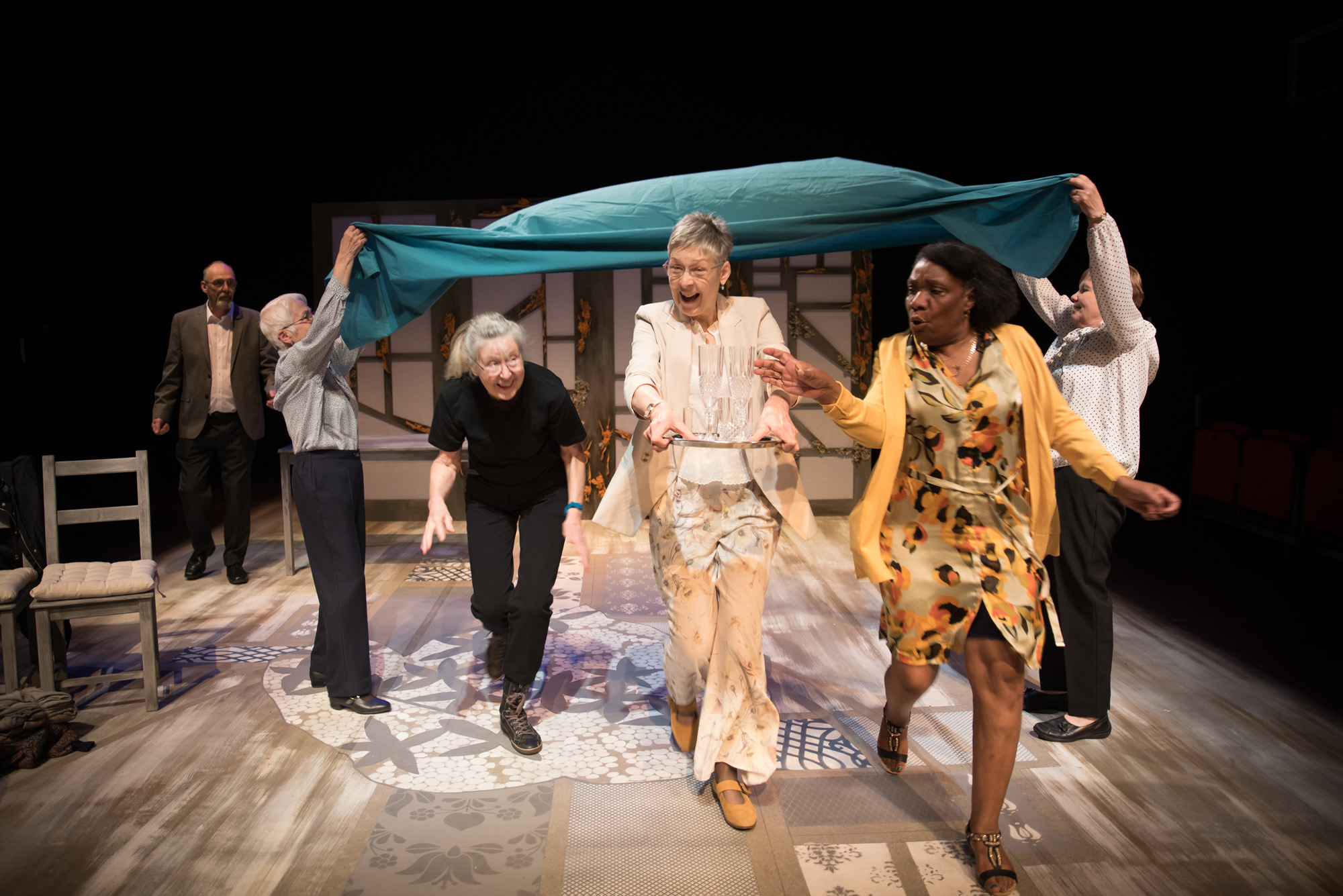 Behind the Net Curtain at the Belgrade Theatre - credit Nicola Young